Children used to dream of a toy train set.  As they grew up, some kept their passion and joined the hobby of sophisticated model train layouts.    But, others…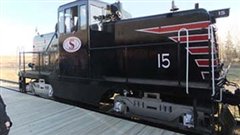 But others grew up and restored the full size deal.   The summer season is about to start for many restored vintage tourist trains across Canada.
One is the Prairie Dog Central Railway near Winnipeg Manitoba, another is the Southern Prairie Railway in the town of Ogema about 120km south of Regina Saskatchewan..  Both operate vintage equipment and both are privately run operations.
While the Prairie Dog Railway in Manitoba has been operating and growing since 1970, The Southern Prairie railway in Saskatchewan is a newcomer, now going into its second year of operation with passengers riding in a refurbished 1922 coach.
Cheryl Generous, CEO of Southern Prairie Railway, says the train attracts people of all ages.
"We get people in their 90s that are coming and telling us the stories of when they would come to the train station when they were children and how it affected their lives. And you just see the nostalgia just coming out of them. It's a love affair," she says.  "You can just see the passion in their eyes."
Generous recalls a six-year-old boy who took the train last year. He had a backpack with stuffed toys and kept taking the toys to the back of the train to show them the tracks through the window.
"He came up to me and said, 'Thank you. This has been my lifelong dream to ride a train.' He was six," she exclaims.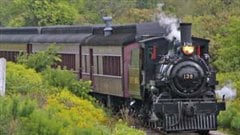 In Ontario meanwhile the South Simcoe Railway starts its summer season this coming weekend.  Steam train lovers travel in restored 1920's coaches on what was a branch-line that used to run north from Hamilton to Barrie and Collingwood. The tourist operation now runs a one hour return trip on remaining tracks between the towns of Tottenham and Beeton located about 75 km north of Toronto.
"Allllll Aboooard !"
List of heritage railways in Canada
Scenic railways Heritage train rides Canada
South Simcoe Railway in Ontario 
Prairie Dog Central Railway in Manitoba
Southern Prairie Railway in Saskatchewan