What better way to stimulate young minds than to give them a challenge.
An international competition called Destination Imagination does just that. The mission statement of the non-profit organization says the idea is , "To develop opportunities that inspire the global community of learners to utilize diverse approaches in applying 21st Century Skills and creativity.
The community of Bedford, Nova Scotia, is not far from the major port city Halifax. Earlier this year and for the first time a group of grade 7 students took up the engineering challenge of Destination Imgination. and went on to win the provincial competition. They will be heading to the Global Challenge in Tennessee, USA later today.
Miss Julia Hill teaches grade 7-8-9 science at the school.
Listen
While Ms Hill had heard of the competition previously, it was the first time that Bedford Jr High School had participated.
Several students came to a meeting to hear about the competition and four of the students in Ms Hill's grade 7 science class, Aiden Deveau, Tristan Kays, Noah Bugden and Robin Wells, formed a team to take on the structural engineering challenge, which is one of seven categories in the Destination Imagination concept.
Other challenges, involve the arts, science, and social issues
In the structural challenge, twist-0-rama, the team must use materials from a designated list.  The Bedford Jr High  team chose their construction material, and tried out one design, but it didn't support much weight.
After doing a little calculation the devised a new structure based on triangles,. It consisted of three main triangular towers connected in a triangular shape and interconnect by beams forming horizontal triangles.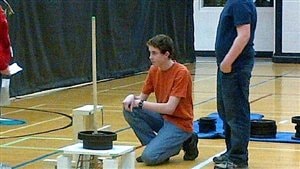 One of the rules states there must be no coaching or helping the teams from teachers, parents or outside sources.
After successfully winning the provincial competition where the structures were tested, the team is presently off the Global competition in Tennessee in the USA where they will compete in their category against teams from all over the world.
Even if they don't win,  it will be another wonderful learning experience in itself.