A 16-year old boy says he heard a horrible "scream" from his black Labrador and looked out a window to see her in the grip of a cougar. The attack took place in the small town of Belcarra in the western province of British Columbia, known for its beautiful wilderness.
"It was terrifying, like a scream you hear in movies, coming from a dog," said Levi Sadler. "When I looked over, the cougar had its mouth completely around her neck. All I saw were Daisy's legs kicking and screaming."
Sadler jumped out the window screaming. Initially the cougar ran off, but suddenly it returned, jumping straight at the teen.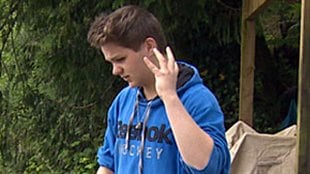 "It almost clawed me. I felt the paws pass by my ear. I thought he'd cut my jugular to be honest. It was the most terrifying thing I've ever endured."
Sadler threw himself back through the window, hitting his head but able to slam the window shut with his foot.
The cougar left for good when Sadler's father came running.
Daisy suffered multiple cuts and needed 100 stitches to close them. Sadler suffered some bruises and both are recovering at the family home.
Sniffer dogs were not able to find the cougar. The Sadlers told their story on video.