At the end of this month, a new aspect of provincial anti-tobacco law goes into effect in the prairie province of Manitoba.  The changes are being made to the provinces "Non-smokers Health Protection Act.
As of May 31, tobacco and related products will not be allowed for sale in health-care facilities or where a pharmacy is located.  This means cigarettes etc, but also rolling papers, cigarette rollers, tubes and filters, pipes or anything used in association with tobacco.
Tobacco and associated products can be sold if the business creates a separate retail area which is not directly accessible from the pharmacy for example, that is through a separate exterior door.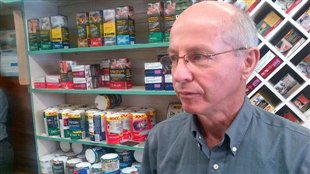 The law introduced last year also bans sales of tobacco from vending machines.
Manitoba says next year it will begin a smoking ban at its 82 public beaches and at playgrounds in publice parks.
Meanwhile, in the maritime province of Nova Scotia, a retailer who refused to abide by provincial laws forcing him to keep tobacco products concealed, says he won't appeal a court decision against him.
Bob Gee, owner of a tobacco store, fought a six-year battle against the anti-display laws on the grounds they violate his freedom of expression.
Initially a judge ruled in Mr Gee's favour, but a higher provincial court has ruled against him saying tobacco's poisonous effects outweigh infringement on rights.
Before the Nova Scotia court ruling, Gee said this was a battle over democracy — pointing out that tobacco is a legal product in Canada. He added, "The government is collecting 75 per cent of the money that we make in tax dollars. If they don't want tobacco on the market, make it illegal and get it done with."
Tobacco Use in Canada: Patterns and Trends 2012