The Hupacasath First Nation is a community of 300 people in the heart of Vancouver Island near Port Alberni, on Canada's west coast.  And they have taken on a big challenge on behalf of Canada's other aboriginal groups.  On June 5th, 6th and 7th, representatives were in court in Vancouver challenging the Canada-China trade deal, under section 35 of the Canadian Constitution.  This section outlines the duty to consult Indigenous communities when changes are made to the Indian Act, or other legislation affecting First Nations communities.
Former Council member, Brenda Sayers is the Hupacasath First Nation portfolio holder for the Canada China FIPA court challenge.  She says the challenge is on behalf of all Canadians.
The Canada-China Foreign Investment Promotion and Protection Agreement (FIPA) is a trade agreement like no other.  Prime Minister Stephen Harper signed the deal last September in Russia, with then Chinese President Hu Jintao.  The two leaders were in Russia at the time for the APEC meeting.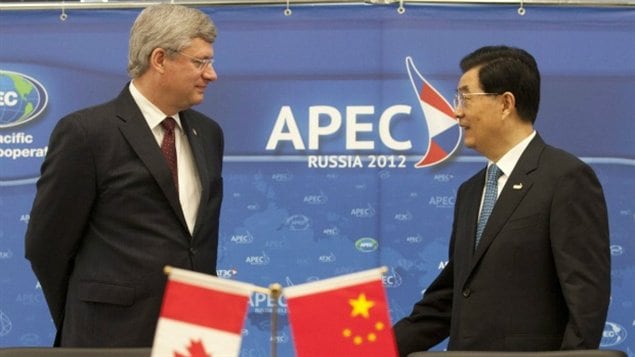 The controversial deal, that has yet to be ratified, will have far-reaching effects on Canada.  It will alter the ability of Canadians to decide on the best interests of the country in areas of resource management for example.  If a group of Canadians oppose the interests of a Chinese company, there is an "investor state arbitration clause".  This allows China to sue Canada on the grounds of interfering with their ability to make a profit.  The dispute will then be decided by a secret 3-member tribunal.  The agreement will be in force for 31 years.
Brenda Sayers says the FIPA "removes power from the provinces, it removes power from the municipalities to make laws that would protect their citizens."  And few Canadians know it exists.  There has been little or no discussion of it in the mainstream media.
NDP leader Thomas Mulcair addressed the Calgary Chamber of Commerce in February, saying, "Taken together, what FIPA and the CNOOC bid do is to remove Alberta's ability to independently control its own natural resource policy, while ceding enormous control of our natural resources to a foreign power,"
In April, Members of Parliament voted on an NDP motion that would have had the Canadian government inform China that it will not ratify the deal.  During the debate in the House of Commons, NDP International trade critic, Don Davies said, "I believe that many members of the government side are aware of the dangers this deal presents to Canadian interests and are troubled by the agreement's violation of core Canadian values".  The Conservative majority, however,  defeated the motion.
Now the Hupacasath people are waiting to hear the decision of the Federal Court Judge. According to Brenda Sayers they should know by the end of August or the beginning of September.  September 9th will be the first annivesary of the signing.  Will it be the occasion of the ratification?
Listen