Chilkat and Ravenstail weaving is a skill and an artform that was almost abandoned in northwestern Canada.  Now it is undergoing a renaissance.
It began with Clarissa Rizal, from Juneau, Alaska.  25 years ago she accepted the invitation to apprentice with the last of the traditional weavers, a woman named Jennie who was 96 at the time.  Jennie had learned from her "aunties" at the age of 12 when her mother died.  Eventually Jennie completed her mother's unfinished Chilkat robe.
Clarissa Rizal was in Whitehorse recently, working with Anne Smith.  Together, they're teaching the next generation of weavers.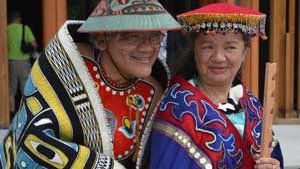 In an interview with CBC Radio, Clarissa Rizal said, "When you are weaving the robes there's this intense feeling of connectedness to all the ancestors, all the weavers from the past who are right here with us.  This is like a veil between the worlds."  Clarissa Rizal says the power is astounding.  "It reinforces a person's inner strength."
Together Clarissa and Anne have witnessed the restored form woven into several clultural aspects of the aboriginal communities of northeastern British Columbia, Yukon and neighbouring Alaska.
The robes were featured during a performance at the Kwanlin Dun Cultural Centre in Whitehorse on June 22.  Twenty performers sang songs in their native languages including Gwitchin, Southern Tutchone, Northern Tutchone, Han, Tlinget and Cree.