In just the past few years we have seen reports of massive forest fires of unusual size and duration.  Australia experienced a disastrous fire season in 2009, Russia in 2010, Texas and other states in 2011, deadly fires in Colorado in 2012.
Massive fires in several Canadian provinces occur every year including so far in 2013, where in Quebec for example, just one of several fires has burned about 350 000 hectares across a 100km front, along with huge fires in Yukon, and Labrador.
Also this year just one of several brush fires in Australia burned more than 400,000 hectares alone.
This new analysis of what is likely to happen in coming decades provides no good news.  The study is called , "Global Wildland Fire Season Severity in the 21st Century"
The predictions are that as the earth warms, and with changes in climate,  wildfires around the world are likely to be even more severe, occur more often, burn more area, cause greater damage and costs, and be more difficult to control.
This may be especially so in the northern hemisphere.
Lead author is Dr Mike Flannigan is professor of Wildland Fire in the Department of Renewable Resources University of Alberta, and Director of Western Partnership for Wildland Fire Science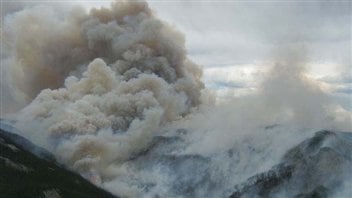 Listen
Using fire data gathered from world sources from the period 1971-2000 as a base, they used fire danger indexes, the Canadian forest fire danger rating system is the most common around the world, to establish a baseline of information.  Using climate models they compared fire danger against climate projections to establish scenarios for the decades up to the year 2100.
Another concern is the likelihood of positive feedback. A study in the 1990s indicated that peat fires in Indonesia contributed 20-40% of greenhouse gas from fossil fuels. There is 30% more peat in boreal forests than in Indonesia and as the forests dry, and burn there is concern that the vast amount of greenhouse gases given off will contribute to warming which contributes to drought and more fires and into a feedback loop.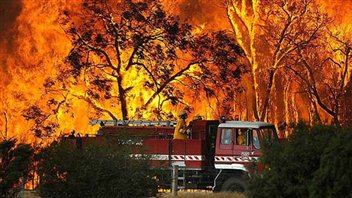 Professor Flannigan points out there are studies which attribute up to 330,000 deaths annually to the effects of wildland fire smoke, and that the figure is only going to increase, along with costs and damage to infrastructure along with the immediate costs of fighting fires.
The study also says that as fires become larger and more frequent, the ability of many forests to recover and regenerate may become compromised, thereby turning large forests into swaths of grassland and shrubbery, which in turn would create dramatic changes to ecosystems.
Co-authors of the report are; Mike Wotton of the Faculty of Forestry, University of Toronto and the Canadian Forest Service of Natural Resources Canada; and Alan S. Cantin, William J. de Groot, Alison Newbery and Lynn M. Gowman of the Canadian Forest Service of Natural Resources Canada
(according to the   Canadian Interagency Forest Fire Centre Inc. National Wildland Fire Situation Report  there are currently about 650 wildfires burning across Canada requiring moderate to full response
University of Alberta, Mhttp://www.ciffc.ca/firewire/current.phpike Flannigan page
Global Wildfire study Abstract