One of Canada's world renowned painters has died. Alex Colville passed away peacefully at age 92 at his home in Wolfville, Nova Scotia on Tuesday, July 16.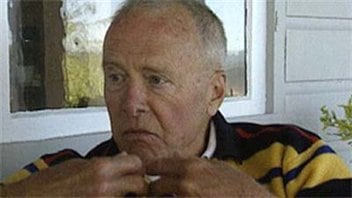 Born in Toronto, he moved to Nova Scotia as a child.
After studying fine arts and graduating from New Brunswick's Mount Allison University in 1942, he married his wife Rhoda the same year and enlisted in the Canadian Army.
In 1944 he was accepted as one of the 31 official Canadian war artists. He was also one of three artists allowed in to the Bergen-Belsen death camp.
This resulted in the painting, "Bodies in a Grave". Initial sketches for that work, show shaky lines, suggesting Colville was deeply troubled by what he was seeing.
In the war painting "Infantry, near Nijmegen", soldiers of the Royal Winnipeg Rifles are seen trudging along a Dutch polder. He used his father's face and his own hands as the models for the first soldier, with the final work being developed from 15 different sketches.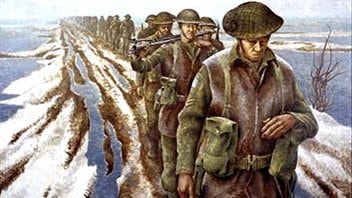 It is said the war deeply affected him and led to his recognizable style of existentialism and realism.  
War paintings such as tragic landscape show the body of a paratrooper lying as if sleeping, in a calm pastoral scene
"I see life as inherently dangerous. I have an essentially dark view of the world and human affairs . Anxiety is the normality of our age," Colville was quoted as saying.
Many of his paintings leave questions in the mind of the viewer.
Colville first sketched "Horse and Train" on a sheet of paper in 1954. The original title of the painting was "A Dark Horse against an Armoured Train."
The setting of the picture Horse and Train is located at Aulac just outside of Sackville, in the province of New Brunswick, where the elevated tracks crosses the Tantramar Marshes (from where RCI transmitters used to broadcast programmes to the world)
The Horse and Train was inspired by the poem, "Dedication to Mary Campbell," published in 1949 by South African writer Roy Campbell.
The poem includes the lines: "Against a regiment I oppose a brain, and a dark horse against an armoured train.".
This image was also used by Bruce Cockburn as the cover art for his 1973 album, :"Night vision"
In the painting " to Prince Edward Island", the female figure stares  through binoculars at the viewer, seeing what or whom? What is she thinking?
The model for the female is Colville's wife Rhoda who featured in many of his paintings.
After teaching at Mount Allison post-war, Colville began painting full time in 1963 at his house and studio in Wolfville, which had been his wife's  childhood home.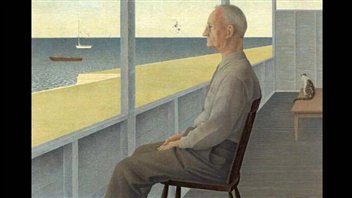 A Colville painting was a painstaking process developed from many sketches and studies before painting, a meticulous process that could take months before a work was completed.
He also said he never painted from a photograph because a photograph "doesn't contain enough information".
Prices for his works have steadily increased. When his 1953 painting Man on Verandah was auctioned in 2010, it fetched a record 1.29 million (1.1 +17% premium).
Alex Colville is predeceased by his wife of 70 years, Rhoda Colville, who died in December and their middle son John. They are survived by two other sons, Graham and Charles, and their daughter, Ann.