Listen
Grizzly bears have been inaccurately demonized and that is dangerous, says Charlie Russell, a western Canadian naturalist who has been compared to Jane Goodall. Russell has studied bears extensively and has spent a good deal of time close to them.
After 12 years on the Kamchatka Peninsula in Russia studying bear behaviour, Russell now lives in the western province of Alberta, close to the border with the United States.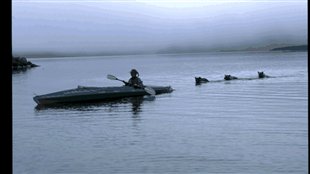 Talk of resuming the hunt
Fewer than 700 grizzly bears are estimated to live in Alberta. The provincial government declared the species to be threatened and devised a recovery plan five years ago.
The bears have increased in number and while many ranchers want to preserve the species, others are worried they may attack cattle and are talking about bringing back a legal bear hunt.
"Trophy hunting…is dishonest"
"I don't like that particular idea," says Russell whose father, Andy, was a famous hunter and conservationist. "I'm not anti-hunting but I don't like trophy hunting, especially around bears because it's dishonest.
"Bear hunters need to villainize the animal in order to feel good about killing it. The bear that I know is not an aggressive, ferocious animal and he's quite safe around people."
There are problem bears, acknowledges Russell, and a rare few who are serious cattle killers. He does not believe they should be re-located. Rather he thinks professionals should be hired to find specific problem bears and kill them. That he thinks is a better solution than bringing back a generalized hunt.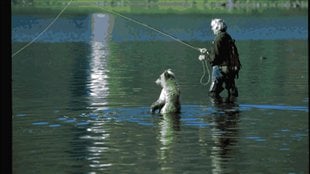 Russell often accompanied by grizzlies
Numerous pictures of grizzlies accompanying Russell on walks or fishing attest to his ability to get along well with the animals. He tells of a bear that used to sit on the porch of his log cabin with him and look at the expanse of prairie and mountains in the background.
Management of bears in western North America is badly handled in Russell's view. Bears found near inhabited areas are often trapped in large culvert traps. When they are released they may be shot with rubber bullets, harassed by dogs and loud noises in an effort to scare them away from people.
Distrust is dangerous, says Russell
Russell says the bears learn that people cannot be trusted and that is bad for people like him who may be hiking and inadvertently come across the animal.
"This bear might have very negative feelings about people depending on the history of what has happened to it," says Russell. "And that bear, if it's a female with cubs who is very protective and I surprised it at close range, that bear might attack me whereas normally they wouldn't do this.
"I've lived with bears where these sorts of things aren't done and it's amazing how wonderful they can be. They are not unpredictable animals as we insist they are. They aren't dangerous just because they lose fear."