The bison population appears to be less than half of what it was one year ago in the Fort Providence area of Canada's Northwest Territories. A survey conducted in March shows an estimated 714 bison are left compared with 1,531 last year.
The territorial government blames an anthrax outbreak last summer for the substantial decline. Last year, more than 400 bison carcasses were found in the Fort Providence area and surveyors may have missed others.
Millions of bison gone
Bison use to roam North America's plains and forests in the millions providing food and materials for aboriginal peoples. People arriving from Europe slaughtered these huge, hairy mammals to the extent that fewer than 1,000 were left by 1899, causing great hardship to the natives who depended on them.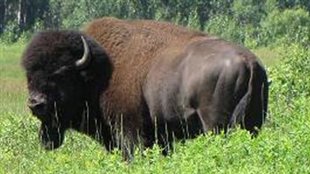 Various efforts to repopulate herds mean an estimated 100,000 animals now live in North America. Most of them are raised for meat and only 20,000 are believed to still live in the wild.
Canada's parks service has made various efforts over the years to encourage bison herds. Canadians can see them by visiting the park or going on-line to check a video camera set up near a watering hole in Canadian Prairie in Grasslands National Park.
Bison facts:
Bison are North America's largest wild mammal.
Bison are members of the cattle family.
An adult male can weigh up to 1,000kg and be 1.8 meters tall.
Life expectancy is 20 to 40 years.
Bison are fast, running at a speed of 48-56 km per hour.
Don't bug the bison
Visitors to Canadian Prairie in Grasslands National Park are advised to keep a good distance away from bison particularly during mating season,  to not startle them and to leave if they see signs the bison are annoyed such as shaking the head, pawing, loud snorting, raising the tail as well as short charges or running toward you. You really don't want that.