It was impressive, but only a small portion of a $40-million haul of methamphetamines made by several police forces was put on display in the province of Ontario yesterday. Police say it was one of the province's largest ever meth seizures. Nine search warrants allowed them to search clandestine drug labs and residences in the Toronto area and a little further east in July.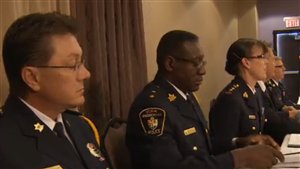 The illegal pills were thought to be destined for export. "Canada is known as a methamphetamine exporter to other countries, especially the United States," said Scott Tod, deputy commissioner of the Ontario Provincial Police.
Numerous drug-related charges will be laid against five people when they appear in court next week, including including drug trafficking and possession of a controlled substance.
In total, police seized:
120 kilograms of pure methamphetamine, enough to make four million pills.
110,483 meth pills.
14 kilograms of meth powder, ready to be pressed into pills.
Five vehicles.
$81,000 in cash.