The new technology of television had been amazing visitors to the annual Canadian Nation Exhibition in Toronto since before the Second World War.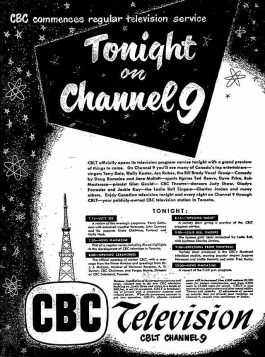 From 1947, residents in the populous area around Toronto Ontario, could receive TV signals from the US. Few households had TV sets though as the cost for this new technology in today's economy would be the equivalent of a few thousand dollars.
Still there were enough sales that the local newspaper began printing the broadcast schedule of the American station in Buffalo
Then, on September 6, 1952, the first TV station in Canada went on the air in Montreal, the French language public broadcaster Radio-Canada CBFT.
September 8, saw the first TV broadcast was made from the public broadcaster's English service,  the Canadian Broadcasting Corporation station CBLT
After an inauspicious debut with the station ID, upside down and backwards, the night's programming began at 7;15 pm and featured a weather forecast, and a puppet sketch.
A "news magazine" was presented with highlights in the development of CBC TV, various speeches by dignitaries including the Prime Minister, a variety show featuring a young genius pianist, Glenn Gould, followed by a half hour with a the Leslie Bell female choir, another variety show from Montreal and then to end the night the half-hour repeat of the 7;30 show was aired starting at 10pm.