The cost of a university degree in Canada will have quadrupled from 1990 to 2017, adjusting for inflation, according to research by a policy think-tank. The Canadian Centre for Policy Alternatives report says the increase in tuition and compulsory fees undermines any commitment to universality.
Fifth-highest tuition in OECD
Canada as a whole has the fifth-highest tuition for college and university in the OECD, behind Chile, the United States, Korea and Japan. Fees vary from province to province and are highest in Alberta and lowest in Newfoundland and Labrador.
In the province of Quebec students held mass demonstrations against tuition hikes last year and succeeded in rolling back a planned 75 per cent increase. Fees there are now indexed to the cost of living. Universities there, like McGill, had to immediately slash their budgets as a result.
The average annual tuition fee in Canada increased from $1,464 in 1990 to $6,348 in 2012. This fall, they are predicted to be $6,610.
Provincial governments have largely tackled the problem not by reducing fees, but by increasing assistance to students, notes the report.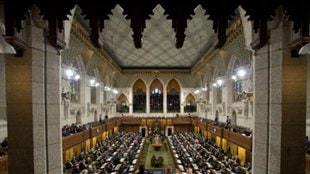 Many students unable to repay loans
The Canadians government announced in February that it is writing off another $231 million in unpaid student loans this year from more than 44,000 cases. Taxpayers will have to shell out more than half a billion dollars in uncollected student debt over the past few years.
Repaying debt is becoming more difficult for students, says the report, given the "significant increase of young workers in temporary, insecure, or contract work, from eight per cent to almost 12 per cent."
Canadian students owe an average $37,000 in public and private debt by the time they graduate, according to government statistics.
Some countries have no tuition fees
Eight of the 26 OECD countries that collect tuition data charge nothing at their universities or colleges.