Experienced firefighters are saying that when it comes to house fires, they are a lot more difficult to deal with than the house fires of several decades ago.
Chris Williams is Assistant Deputy Fire Marshal for Canada's most populous province, Ontario.  He says, 30 years ago, a person had up to an estimated eight minutes to exit their home from the time their smoke detector went off, but today that's been reduced to less than two minutes.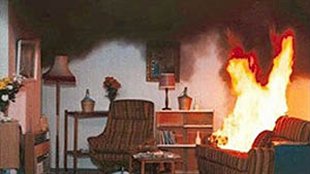 A test by Underwriter Laboratories, a not-for-profit product safety testing and certification organization, found that an average-sized room furnished with modern products is fully engulfed in flames in three minutes. The same room, furnished with items 50 years of age took 30 minutes to do the same.
Mr Williams said in addition to modern materials burning faster, there are added dangers from the plastics. Glues, and carbon-based products. While he said these modern products generate more heat which can kill you, but also produce more smoke and poisonous gasses like cyanide and carbon monoxide.
It's estimated that a modern house fire burn eight times faster and produce 200 times the amount of smoke that a fire would have 50 years ago.
Mr Williams says that's why, '"you have to react immediately to that smoke alarm.You have enough time to make sure you're heading to the door as quickly as possible,"