The Curiousity rover currently exploring Mars carries with it a tiny but vital piece of Canada,
It's a small cube about 7 cm across called the APXS- Alpha Particle X-ray Spectrometer.
It was used for the first time this week as the rover extended its robotic arm and held the device over a small Martian rock. The APXS then bombarded the rock with alpha particles and xrays
Ralf Gellert, at the University of Guelph, said of the Martian rock "it was a good pick"  He leads the international team responsible for the powerful spectrometer.
The APXS is Canada's $18-million contribution to the Martian rover that touched down just over a year ago.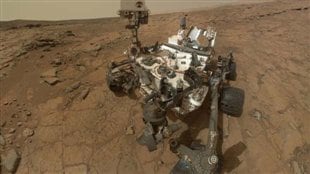 The rover has already discovered a surprising amount of moisture in the soil,about 2% by weight, and the rock analysed looked like a type of volcanic rock found on ocean islands and continental rift areas on Earth.
It raised the possibility that there was water beneath the surface of the red planet.
The water in the scoop of sand was found by heating a tiny bit of soil to 835 C inside Curiosity's chemistry laboratory and analyzing the resulting gas releases.
Scientists found that in addition to water, sulfur dioxide, carbon dioxide and other materials, the sands of Mars also contain reactive chemicals known as perchlorates
The rover is now heading to a feature known as Mount Sharp, a massive five-kilometre high mound of sedimentary layers sitting on the centre of Gale Crater.
Gellert says as the rover climbs it should pass through several epochs in Martian history. He notes it may have gone from an Earth-like planet to the more acidic and the arid planet that it's been for the last 3.5 billion years.
If Mars was "earth-like" at one time ,the evidence may still be recorded in the Martian rocks, which have not been subject to the geological forces that transformed Earth and its rocks over the last 3.5 billion years.
Gellert said, "in that respect it may be like a time-capsule that is frozen in time"