A Canadian anesthesiologist has been a leading figure in helping Rwanda rebuild its health-care system.
For example, following the Rwandan genocide, there was only one anesthesiologist left in the country to serve a population of eight million. The country left with few doctors, trained medical staff, equipment and other resources has since been working hard to rebuild.
Dr Patricia Livingston is the Director, Global Health Office of Anesthesia,  Department of Anesthesia at Dalhousie University  in Halifax, Nova Scotia.   Since 2008 she's been travelling to Rwanda first as an instructor, but then also last year to help establish the first simulation and skills centre.
Listen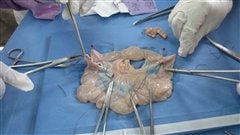 Dr Livingston originally signed up for a one-month assignment with the volunteer group in Rwanda, but has since been back many times, and has become a key figure in creating the new simulation and skills centre which was opened this summer in Kigali.
The new facility, located at the National University of Rwanda, will help train local doctors and other health professionals and is called the Faculty of Medicine's Simulation and Skills Centre.
It's designed to help train medical students and new professionals in a variety of disciplines from general practitioners, to surgeons to nurses and so on.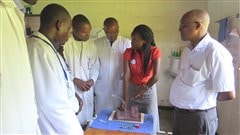 Typical training in Rwanda involves more lectures and observation and less hands-on practice than is the case in western establishments.
The idea of the simulation and skills centre is exactly to give new staff the chance to practice classroom knowledge in practical, hands-on, situations and to get them used to handling and using instruments and techniques needed.
"In medical school, I'd never heard of simulation training," said Dr. Gaston Nyirigira, a Rwandan anesthesiology resident. "We usually used books, lectures and drawings. You would crowd in and watch once with the surgeon. The second time you do it yourself right on the person, and call if you need help."
Dr Livingston cited the example of suturing a wound "if your first time doing it is on a patient, it's not as good as having instructions with a simulated model  and have a teacher help you work through the procedures. We also have a simulated arm so people can practice putting in an intravenous, so it's not going into a real patient, and not hurting anyone".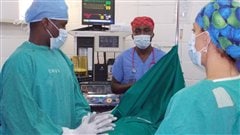 Developing communications among staff in operating room and emergency situations is also critical and practiced at the centre where skills can be honed again without having to learn while risking the health of actual patients.
Another important aspect of the centre is to train future trainers in order to help speed up the rebuilding process of Rwanda's health care system.
Dr Livingston says she's thrilled to work with the Rwandans who she says "are so keen to learn and are so enthusiastic"  She is also glad to help where she says there is still such great need.
Dr Livingston has been working in a number of roles, in developing the centre, co-ordination and overcoming a number of logistics and other hurdles , while also teaching in lectures and practical lessons. She says she'll be returning this coming January to continue her work
Dr. Livingston's work has been supported by a $100,000 Rising Stars in Global Health grant from Grand Challenges Canada. The agency funds big-impact ideas in health care