A research effort this summer in the Great Lakes has revealed a surprising amount of tiny plastic particles in the water.
The 5 Gyres Institute is an environmental organization which has primarily been concerned with pollution, and especially plastics pollution, in the oceans.
Marcus Eriksen, is the Research Director at the 5 Gyres Institute in the USA.
Listen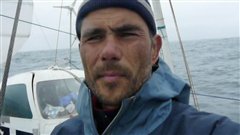 The giant Pacific Gyre is relatively well-known as an extensive area where plastic flotsam and jetsam accumulate and are eventually broken down into smaller and smaller plastic junk becoming a soupy mix of miniscule particles of plastic.
In fact there are 5 such gyres in the world's oceans with three additional giant garbage patches.
As Mr Eriksen points out, such pollution in the oceans is impossible to pin to any one country, or individual source.
They proposed to examine pollution in the Great Lakes where the sources would be much easier to trace.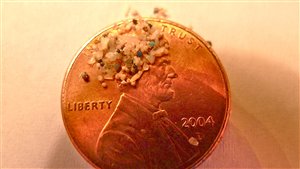 What they found was that instead of accumulating in the water, most plastic junk ends up washed onto shorelines before it breaks down into tiny bits. Along the shores, in several cases, its cleaned up by municipalites and/or volunteers
However,  what they were surprised to find still in the water was a noticeable concentration of tiny plastic beads,  microbeads.  Mr Eriksen says the concentration was higher than any they had found in the oceans.
Plastic microbeads are found in many products including face and hand srubbing cleaners and even toothpaste.
The beads are so tiny that they are often not filtered out by treatment plants or escape as sewage overflow from treatment plants during heavy downpours.
As Mr Eriksen points out, various toxic chemical pollutants adhere readily to the plastic beads, which to aquatic life may appear as fish eggs and as such, a source of food.
The toxins may then accumulate in fish, which can end up on your plate.
Mr Eriksen says his group has approached the major manufacturers of the beauty and health products, who have agreed to phase out the use of microbeads over the next few years.
The group says it is now in the process of investigating the issue of aquatic life eating the plastic microbeads and if and to what extent toxins may be absorbed into the fish and marine life.