Sumatran Orangutans are highly intelligent.
Richard Zimmerman is with Orangutan Outreach, a conservation group based in New York. He proposed an idea called "Apps for Apes" with the idea that enabling the animals to access computers would stimulate them and keep them from boredom and perhaps enable communication with human keepers
The Toronto Zoo received an iPad early last year from a donor and they've been working with their six orangutans since then, with beneficial results.  Now the idea has reached a new phase. This year, the Toronto-based innovation company SplitElement Inc. has been working with the zoo to create apps specifically designed for the orangutans.
Christopher Lewis is with SplitElement
Listen
Shortly after the tablet arrived, it became clear that the orangutans enjoyed the extra diversion. They seemed to like to watch videos, and play memory games.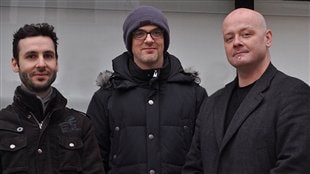 One of the problems is that orangutans fingers are not as dexterous as human fingers so there was some difficulty,  and then tended to touch the small icons on the screen with their finger nails which didn't successful activate the icon.
SplitElement began working on apps specifically suited to the animals.
The result is a programme called "Orangutapp".  One of the things they now enjoy is being able to select which daily enrichment foods they want to eat…touch the icon for grapes, the carekeeper gives them grapes, touch kale and they get kale.
The Toronto zoo says it's just the first step in developing "interspecies communication". It also is giving the zoo insight into the likes and dislikes of the orangutans.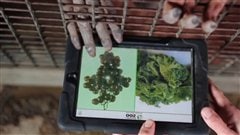 The orangutans for the time being cannot be left with the iPad as it would no doubt end up broken in play as orangutans are very strong.
Plans are in the works for create a large-scale interactive projected touch screen which will further facilitate the experience for the orangutans and help to again reduce barriers to communication.  In time, there may also be an app  available for the public
Lewis says the working with the zoo and the orangutans has been a marvelous experience, for him and the other company team members who are working on the project, founder Demi Kandylis, and Adam Hunter.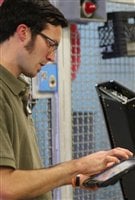 Lewis says as development continues and both  they and the zoo learn more about how the orangutans use and interact with the technology they will be able to continually improve it and develop other very helpful programmes.
This could involve such things as programmes to help the animals tell keepers if they're not well, and where it hurts, such as a toothache or stomach ache, etc.