At the height of the Christmas travel and shopping weekend, one of the worst ice storms in Canada's largest city struck.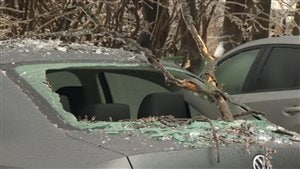 Over 250,000 people are still without power in and around the city, with at least 100,000 thousand more from Niagara south of Toronto , to Kingston to the east are also affected in this major southern Ontario storm.
Some 45,000 were reported without power in Quebec as the storm of freezing drizzle and snow moved slowly eastward where it's currently affecting the maritime provinces.
From 10 to 30 mm of ice weighed down branches which fell on heavy ice-covered power lines and transformers. Several transformers were short-circuited causing minor but spectacular explosions of the transformers in several instances.
A few hospitals in Toronto and elsewhere are currently running on emergency generators.
Toronto's streetcars (tramways) with their overhead wires covered in ice were either stalled along their route, or unable to leave the depots.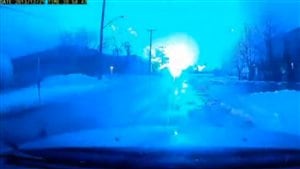 Many people without power have had to seek warmth in emergency shelters.
Vast numbers of flights into and out of Canada's busiest airport were cancelled leaving vast numbers of holiday travelers unable to get to their vacation destinations or to return home to family for the festive season.
 "It truly is a catastrophic ice storm .." Toronto Hydro CEO
The power company says all workers have been called out to effect repairs and other crews requested from areas that can spare them. Still, for thousands, it's expected power will not be returned for anywhere from 2-4 days.
"It truly is a catastrophic ice storm that we have had here, probably one of the worst we've ever had," Toronto Hydro CEO Anthony Haines said earlier Sunday. "
There are concerns that if the winds pick up, many more dangerously heavy branches could still come down causing further power outdages and property damage.
In 1998, a massive ice storm swept through central and eastern Canada but struck the province of Quebec particularly hard. also causing massive damage and stranding people without power for days. The economic cost of the that storm is estimated to have been over 5 billion dollars