Listen
Canadians of Ukrainian heritage are demanding the Canadian government impose sanctions and travel restrictions on Ukrainian officials and "oligarchs," says Taras Zalusky, executive director of the Ukrainian Canadian Congress.
Canada's Minister of Foreign Affairs John Baird responded by announcing Canada will bar senior Ukrainian officials from entering Canada. He said it's a symbolic effort but sends a disapproving message to a government he warns is returning to "old Soviet-style repression." Baird added tougher measures could come if the government fails to respond to popular demands for freedom and democracy.
Canada has third largest Ukrainian community
There are about 1.2 million people in Canada's Ukrainian community, many of whom have ancestors who settled in the western province of Manitoba as farmers starting in the late 1800s. They make up the largest Ukrainian population in the world after those in Ukraine itself and Russia. Taras says many are closely monitoring the upheaval in Ukraine.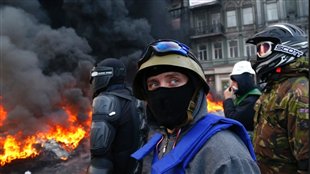 "Glued to… their computers"
"People are glued to the live streams on their computers, are Skyping with their family every day and they're really worried," says Zalusky. There have been over 100 rallies in Canada in support of the protesters in Ukraine and against the Ukrainian government, he says.
Canada's Ukrainian population is known to be proactive and now, says Zalusky, even more people are getting involved. "People who haven't been involved in the community are coming out to events and saying 'Hey my baba, my grandmother was Ukrainian. We can't tolerate what's going on there…What can we do? What can we get the government of Canada to do? And how can we help?'"
People demand sanctions
The community had asked for the imposition of sanctions against "officials and oligarchs who have violated the human rights of Ukrainians" as well as the freezing of assets, travel bans and criminal prosecution of those who are responsible. "There's a sense that you can't implement laws that curtail human rights at home and then go jet off to vacation or shop in Europe," says Zalusky.
International pressure may be having some effect already. The prime minister of Ukraine resigned and parliament repealed anti-protest laws that sparked violent clashes between protesters and police.
Canadians will not let up however and are planning are large rally on Parliament Hill in Ottawa tomorrow (Wednesday, January 29) and leaders will meet with Baird on Friday.