Enlisting citizens to help science
 Scientists want to get a much better idea of what's happening to the world's bird populations. They've found the best way to do it is get citizens involved in counting and identifying birds that they see during a specific period.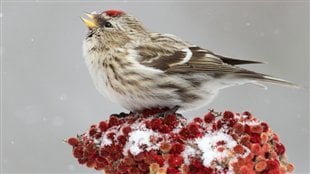 It's called "The Great Backyard Bird Count".
Dick Canning, senior projects manager for Bird Studies Canada, says, "When you send a biologist out to do a bird survey, they find out something from one spot and it costs a lot of money. But here, for a relatively small amount of money, we can get coverage of the whole continent,"
The count is a joint project of the Cornell Lab of Ornithology and the National Audubon Society, both based in New York, in partnership with Bird Studies Canada, based in Ontario.
Now in its seventeenth year, it takes place over a four day period from this Friday the 14th to Monday the 17th and asks people to spend  at least 15 minutes during one of those days to jot down the birds they see.
The researchers ask that during the count, birds be recorded and described as they are in a field guide so that researchers know exactly what people are seeing in their region. For example, participants would report sighting a 'white-crowned sparrow' instead of just 'sparrow.'
Last year was the first time the count went beyond North America with contributions form 111 countries on all seven continents.
Field guides can be bought at many local bookstores, but there are also free online resources that can help narrow the search when identifying birds such as Cornell's "all about birds" webguide
Scientist say the mass counting effort is very helpful in monitoring the health of various species of  bird populations .
As an example Dick Canning says, "every species of bird in North America that is found in grasslands is declining significantly,"
The Great Backyard Bird Count research project helped bring this decline to light.