The issue of water security is of increasing concern around the world.  As demands increase for fresh water, and as the climate becomes more unpredictable, the number of people without access to safe water is increasing.
McMaster University in Hamilton, Ontario, is trying to bring together a variety of experts, the public, and policy makers to identify issues and work toward water security solutions.
Dustin Garrick (PhD) holds the Philomathia Chair of Water Policy at McMaster and is an assistant professor in the departments of Political Science and Centre for Engineering and Public Policy.
Listen
McMaster University is holding a special launch event today,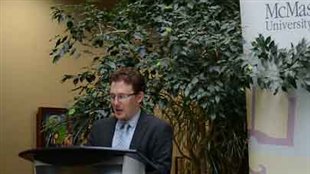 It's called The ,2014 Philomathia Water Forum: 21st Century Water Security Challenges for Society and Science.
It is designed to be a first step towards establishment of an inter-disciplinary water science discussion and network of experts and stakeholders.
The effort is to bring science together with the industry, communities, and policy makers which is hoped to eventually expand to an international-scale forum for the discussion of water security issues and to develop solutions.
The Organization for Economic Cooperation and Development (OECD) estimates that by 2050, some 4 billion people, about 40 percent of the world population, will live in situations where water resources will be severely stressed.
He also mentions that the World Economic Forum annual survey of global leaders and ask them to indicated what they consider to be the major risks or challenges they face ,and for the past three years water supply and water shocks have been in the top 5 of concerns for these leaders.
Climate change means unpredictability in  water supply in terms of more severe droughts and floods, many of which are deadly, and in terms of regular seasonal monsoons used for hundreds of year for the timing of planting of crops, increasing unpredictability in terms of timing and amounts.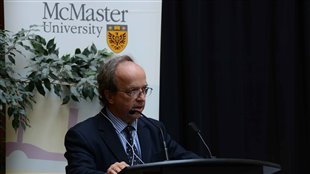 In both cases, unpredictable rains to replenish water sources from lakes, rivers or ground water, means failed crops and drinking water shortage, while the floods from sudden heavy rains cause massive destruction to infrastructure,economies, and  also cause major contamination of water supplies.
This comes in addition to the increasing demands on a finite resource coming from an increasing population, and industry demand.
Professor Garrick says the McMaster initiative is way to bring together a variety of scientific disciplines, end users, and policy makers to work out solutions to a growing world-wide concern