In an ever ongoing debate about public art, the western city of Saskatoon, Saskatchewan, has entered the fray.
A resident there has put a black tarp over a work of temporary public art in protest, saying it's an improvement.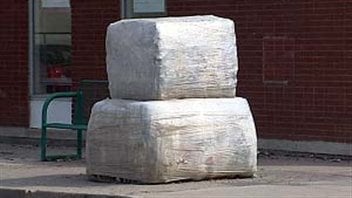 "literally compressed bales of garbage" L Coupal
The work is entitled "Found Compressions One and Two",  but Luke Coupal who resides near where the artwork is installed, says, "It's literally two compressed bales of garbage".
He adds, ""For anyone who has seen this piece of artwork, you'll agree instantly that this is not achieving the objective of beautifying the city".
In addition to covering the art, he added a sign that said, "Our tax dollars are for keeping garbage OFF the streets".
The artist, Keeley Haffner, said the work was created in collaboration with a recycling company where she worked for six months. She then was awarded a $10,000 grant in the city's "Placemaker" programme which is to "enhance civic spaces within commercial districts through the placement of temporary public art."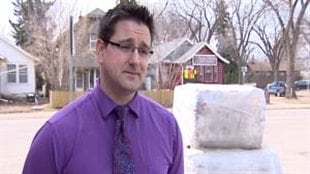 Her first paid public project, she says it was to bring attention to waste management.
Another resident however had a somewhat different take, saying, he understands what the artist was trying to do, but,  "If she'd been complaining about negligent dog owners, does that mean we'd have a pile of dog faeces here at the moment?"
For her part Haffner says the question of beauty in art is a difficult one, "I don't think all work that is made in a public setting should necessarily be made with the mandate of making a space more beautiful."
Calgary debate on public art "Travelling Light"
(with files from CBC)