The Committee on the Status of Endangered Wildlife in Canada (COSEWIC) has just released its latest assessment of the status of various species in Canada.
In this latest report, 27 species are listed as being "at risk".
Martha "Marty" Leonard  (PhD) is a professor in the Department of Biology at Dalhousie University in Nova Scotia, and the current Chair of COSEWIC
Listen
COSEWIC is an appointed group that assesses the status of wild species, subspecies, varieties, or other important units of biological diversity, considered to be at risk in Canada.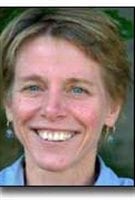 It does this primarily through the input from experts in the scientific community, but also through aboriginal knowledge.
Among the species assessed in this latest report, submitted to the Minister of the Environment, .they indicate for example that two wild bee species are at risk.
Although difficult to assess the numbers of wild bees, there has been a noticeable decline in their presence.  The Western Bumble Bee was widespread in Canada, but it has undergone a mysterious decline and our lack of understanding of what drives bee declines is a cause for concern.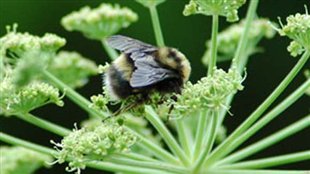 The Gypsy Cuckoo Bumble Bee, also used to be widespread across Canada.
Despite an increased effort to find this species, none have been seen in Canada since 2008, and it was assessed as Endangered.
Other species include the Porbeagle shark, one of 28 shark species in Canadian waters.
Through overfishing and continued "finning" the number of sharks remains at about 30% of their 1961 level, and the species was once again assessed as Endangered by COSEWIC.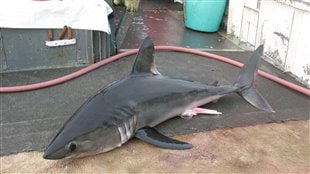 Targeting fishing for this shark is suspended.
Other species assessed specifically in the report include several subspecies of caribou, some salamanders, birds, and a fish that inhabitants only one river in Canada.
Once the report is handed to government officials, they asses the findings in conjunction with other factors such as economic considerations before deciding what actions to take..
COSEWIC's next scheduled wildlife species assessment meeting will be held in Ottawa, Ontario in November 2014.
COSEWIC assessment ratings

-Extinct (X) – A wildlife species that no longer exists.

-Extirpated (XT) – A wildlife species that no longer exists in the wild in Canada, but exists elsewhere.

-Endangered (E) – A wildlife species facing imminent extirpation or extinction.

-Threatened (T) – A wildlife species that is likely to become endangered if nothing is done to reverse the factors leading to its extirpation or extinction.

-Special Concern (SC) – A wildlife species that may become threatened or endangered because of a combination of biological characteristics and identified threats.

-Data Deficient (DD) – A category that applies when the available information is insufficient (a) to resolve a wildlife species' eligibility for assessment or (b) to permit an assessment of the wildlife species' risk of extinction.

-Not At Risk (NAR) – A wildlife species that has been evaluated and found to be not at risk of extinction given the current circumstances.