May is Gaelic Awareness Month in Nova Scotia.
Listen
The Gaelic influence in Canada has been tremendous, but the Gaelic presences, primarily Scottish is still very strong in the east coast province of Nova Scotia.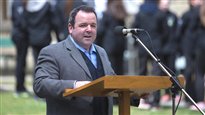 Indeed the latin name of the province means "new Scotland"
Lewis MacKinnon is the executive director of the provincial Office of Gaelic Affairs, Department of Communities, Culture and Heritage in the government of Nova Scotia.
He notes that there has been a steady increase in Nova Scotians seeking to learn more about their heritage roots, in Gaelic traditions, Scottish music ,and also Scottish language.
Although now only a tiny proportion of the provincial population is fluent in Gaelic, that number is growing .
This is happening through a number of courses offered in learning institutions, such as the Gaelic college, and through new methods of teaching, and the new mentoring programme.
While still small, the province has the largest number of Gaelic speakers outside Scotland.
MacKinnon points out that at one time, Gaelic language and influence was strong enough to suggest in the Canadian Senate that it become the third official language of the entire country.
Throughout the province, events are taking place to promote Gaelic heritage, from dance, to music, food, and many other events.
Besides, there's nothing more stirring that the skirl of the pipes !