Listen
Canadian dentists recommend children first see a dentist by the age of 12 months but a recent study shows less than two per cent has seen one by the age of two. That could be why almost half the children entering kindergarten (at age five) already have cavities.
Dental care is not part of Canada's publicly-funded health care system and  about one third of Canadians have no dental insurance to pay for it. In the province of Quebec, a child's first visit to the dentist is paid for by the government.
Nonetheless parents there often wait too long for that first visit and Dr. Annie Marleau, chief of dentistry at the Montreal Children's Hospital deals with the consequences, which can include infection.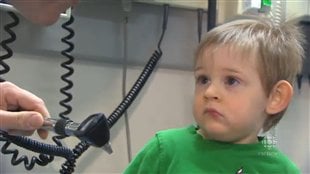 An abscess can be life-threatening
"Every week here at the Children's Hospital we have one child that is in the hospital with intravenous antibiotics for a dental abscess, you know with a swollen face, swollen eye or a swollen jaw… It could be life-threatening." Marleau says children are lucky to have access to medical procedures and antibiotics to fight abcesses, but she still says infection is 'a very serious problem.'
Baby teeth are important
Some people mistakenly believe that baby teeth will fall out and don't bother to care for them, but beyond the risk of abscesses, cavities can cause pain, contribute to feeding problems, poor nutrition, sleep and behavioural problems, and even low self-esteem, say researchers.
The study found that never having been to a dentist was associated with younger age, lower family income, prolonged use of a bottle and higher intake of sweetened drinks like juice.
Babies get comfortable with dentists
Visiting a dentist early helps prevent cavities and gets children used to the visits. Marleau points out an early check-up is a much more positive experience than visiting later with a painful tooth that may need to be pulled.
She also recommends parents start brushing their children's teeth as soon as they appear, or that they start by brushing babies' gums to get them used to it. Marleau says, "Every child has the right to grow up with a good smile and healthy teeth."