The fate of the old Chatham jail, is now uncertain.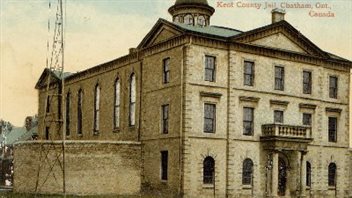 It was built in 1849 before Canada became a country by William Thomas who also built Toronto's St Michael's Cathedral, along with several other churches, town halls, and even the monument to General Sir Isaac Brock who repelled American attackers at Queenston Heights Ontario in the war of 1812.
Another historic fact is that one of the stonemasons, Alexander Mackenzie, eventually went on to become Canada's second prime minister in 1874.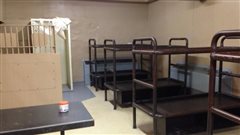 There's certainly many a tale to be told if the 165 year-old building could talk, but it's life as a jail ended officially last week.
The 80 prisoners it still held in May were transferred to other institutions, and the 45 staff members, six of whom retired with the closing are now awaiting the opening of new facility.
The old jail was built using limestone carried up the Thames River from Amherstburg.
Many are hoping to see the building converted to a new life as a hotel, or restaurant, or community centre.
Michael Bondy is the municipal councillor for the area.
"Speaking for myself, as a city councillor, I'd like to see the preservation of the jail, but frankly, it's out of our hands," he said. "So we're a little concerned as to what's going to happen with the structure itself."
The municipality now has the option of buying the historic building from the province. However, Bondy doubts the municipality would be interested.
There is concern that if no-one buys the old jail for preservation, this historic building could be torn down.