Major League Baseball's 85th All-Star Game will be played Tuesday in Minneapolis, Minnesota. Only two Toronto Blue Jay will be there: slugger Jose Bautista and left-hander Mark Buehrle.
Under normal circumstances, Bautista, the leading All-Star Game vote getter for the second time (he also led in 2011), would have been joined in Minneapolis by Edwin Encarnacion, who normally follows him in the Toronto batting order.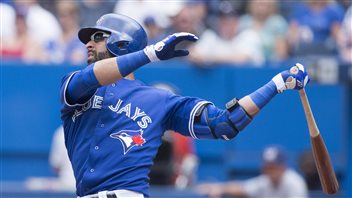 But there are few normal circumstances these days for the Blue Jays. The injury bug is biting the team hard.
Encarnacion will not be in Minneapolis because he went down with a leg injury earlier this month, taking his 26 homers and 70 RBIs to the disabled list. His departure for the DL followed those of Canadian infielder Brett Lawrie and lefty slugger Adam Lind. Along with Bautista, that's is the heart of the Toronto offence. And Bautista, too, has seen his stats (.292 17HR 54RBIs) slide lately as he fights leg injuries.
Meanwhile, Munenori Kawasaki, the team's sparkplug second baseman, missed Sunday's game in Tampa Bay with hamstring problems.
Despite the setbacks, the Jays sit in second place in the American League East with a 49-47 record, four games behind Baltimore.
A lot of that is due to Buehrle, who has anchored the pitching staff. He takes a 10-6 record and a 2.64 ERA to Minnesota. But Buehrle, too, has fallen victim to the injuries through no fault of his own. A lack of run support has resulted in just two wins in his last seven starts.
Still…..the Jays really are only four games out of first place at the break, a time when major league teams seriously assess their chances of making it to the post season.
The question Canadian baseball fans are asking is "What happens now?" (Please note, dear reader, that this is a polite way to ask the question. Likely, it would be posed in more pithy fashion in bars and taverns.)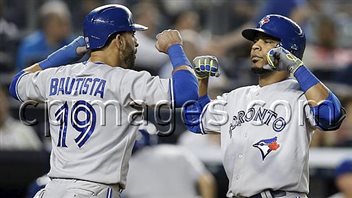 Given the lacklustre play in AL East this season, an optimist might say the Jays have a legitimate shot at making into the playoffs for the first time since 1993 when they won their second consecutive World Series.
A pessimist quickly counter that the Jays can't hit lefty pitching and their own pitchers have–with the exception of Buehrle and closer Casey Janssen (3-0, 1.23)–been consistently inconsistent.
So what's a general manager (in this case, Alex Anthopoulos) to do?
Does he stand pat and hope everybody makes it back safely from the DL soon? Does he make a trade? Pray for a miracle? Cover his eyes and dream about his Montreal childhood when things were a whole lot simpler?
For some perspective, Terry Haig spoke by phone with Toronto Star baseball columnist Richard Griffin, who is in Minneapolis covering the All-Star Game.
Listen