Growing up in Poland, Dominik Modlinski always knew he wanted to be an artist.
Beginning with art school in Warsaw, he and his family later emigrated to Canada where he continued in art colleges here.
It is in Canada where his love of art and wilderness space came together in magnificent landscape paintings.
To capture some of Canada's unique wilderness, he also loves the physical challenge of travelling through these rugged and remote area to find places that it's likely no human has even been before.
He then interprets these magnificent landscapes in bold vivid colours.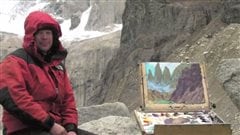 Part of his concern goes beyond mere artistic endeavours though as he seeks to capture such astounding vistas before they are changed by mankind's intrustions and development.
It's an effort to also show people the beauty that exists and that is worth preserving.
However, his "painting journeys' are not confined to Canada as he has travelled far and wide to places from Africa, the USA, to Japan, Antarctica and soon to Bolivia
Domink Modlinski was a featured artist in Canada's prestigious Arabella magazine in the fall 2013 edition.
Dominik Modlinski website- paintingjourneys