Many of Canada's major urban centres are surrounded by wilderness.  As such occasional conflicts with wildlife occur.  All too often the result is the death of the animal.
The latest involved a cougar spotted beside a hospital in the city of Calgary last Thursday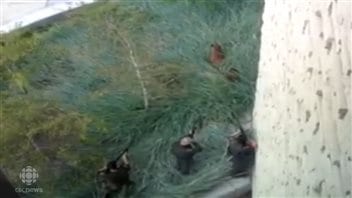 The cougar had wandered onto a construction site across the road from Calgary's South Health Campus where a construction worker chased it away.
It was then spotted in the tall grass beside the hospital entrance nearby where witnesses say it lay sleeping for hours before wildlife officials showed up.
When they did, they approached and shot it at close range. A great many people expressed shock and outrage saying the wildlife officials should have tranquilized the animal instead and moved it back into the wilderness.
Wildlife officials claim it's presence at the hospital posed a serious threat and that they had to make a quick decision.
"Just snoozing"
Brendan Cox, an Alberta government spokesman, explained that the officers had hoped to tranquilize and trap the cougar but determined the adult male cat was too "riled up".
The Huffington Post news meanwhile is reporting that officers told Global News staff that the cougar was "visibly on edge" when they arrived on the scene which they attributed to adrenalin.
However, eyewitness Jennifer Milton  told CBC news she watched the incident from inside the hospital.   "It was just snoozing in the grass," she said. "When they shot it, I thought they tranquilized, but I guess they didn't … Seeing an animal shot like that is heartbreaking."
A statement on the Alberta Justice & Solicitor General's website, says that tranquilizers are too risky, "especially in a situation where the cougar's adrenalin would have likely cancelled the effects of the sedative."
It adds, "Even in normal circumstances, the drug doesn't take effect immediately, and in a situation like today, it can make it worse—by making the cougar very agitated when hit by the dart. This, combined with the speed and agility of cougars, made it a high risk to the people nearby.
However, many witnesses say they believe the sleeping animal could have been corralled and tranquilized.
In light of public outrage, Jonathan Denis, Alberta's justice minister, has ordered a review of the incident.
In a statement updated on the Alberta Justice blog, Denis said he is not an expert on how the situation should have been handled but wants a full review of the matter.  Minister Denis says the purpose of the review will be "to ensure proper procedure and protocol was followed."
Many people say the problem is not that wildlife is coming into cities, but that the cities keep encroaching into the wilderness
A bouquet of flowers and a small wooden cross have been put up by someone in the tall grass where the big cat was killed.
Youtube video of the shooting from another angle- by Olivier Graham