A huge media sale has been announced in Canada. Postmedia will buy Sun Media, the English language holdings of the Quebecor empire..
The huge deal involving the transfer of some 175 newspapers and specialty publications, and websites could drastically change the media landscape in Canada.
Jeffrey Dvorkin is a former chief journalist with Canada's public broadcaster, the CBC, and vice-president of news for National Public Radio in the US. He is currently Director of the Journalism Programme at the University of Toronto, Scarborough campus.
Listen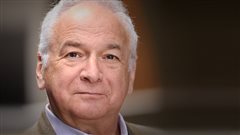 Postmedia currently controls the National Post newspaper, one of Canada's two national papers, along with major urban papers such as the Montreal Gazette, and Calgary Herald.  It also controls the Canada.com news website and wire service. It seeks regulatory approval to buy Quebecor's Sun Media papers, digital operations, and other holdings across the country.
While both chains are struggling financially, the deal will cost Postmedia $316 million, but it includes 34 real-estate holdings some of which will likely be sold to help finance the deal.
If the deal is allowed by the Competition Bureau, Postmedia would control  almost every  English newspaper in major and secondary markets outside of Toronto. In Canada's largest metropolitan area  it faces competition from the Toronto Star, and Canada's other national newspaper, the Globe and Mail.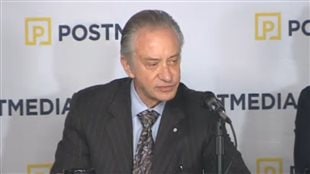 Quebecor remains without a doubt the largest media outlet in the French-speaking province of Quebec with radio, tv, newspaper, magazine, digital, cable and printing operations.
It's owned by Pierre-Karl Peladeau, recently elected to the Quebec provincial parliament as a member of the Parti Quebecois, which seeks to make Quebec an independent country.
Although he won his seat, many analysts feel that Peladeau's fist pumping, "We want a country" election speech, contributed the separatist party's defeat in the recent provincial election.
Some analysts suspect the divestment of his English-language holdings across Canada may reflect his political ambitions in Quebec.
Some of the money may be used to expand Quebecor's cable operations Videotron, to other parts of Canada.
With the future of print media in some doubt Postmedia president Paul Godfrey says the acquisition will make Postmedia "the largest digital news and information organization in the country, with more than 12 million unique monthly visitors"
"In order to survive and compete against the largest foreign-based digital businesses, we must be strong enough to fight and win," he said in a note to staff after the deal was announced before stock markets opened Monday morning. "Collectively, this stable of strong brands can do just that. When the transaction is approved, we will be able to offer advertisers the opportunity to reach the full scale and scope of their target audiences with a Canadian option for their marketing programs."
Postmedia has some 2,800 employees, while Sun Media has about 2,400 full-time employees. Asked by reporters about the future, Godfrey would not speculate on job cuts, but added with a takeover there were always duplications that need streamlining, particularly in administrative areas. He also would not rule out closing some papers but said nothing had been planned.
It is expected that regulatory review of the deal would take four to six months.