A Toronto businessman is offering a healthy snack service to companies, saying it is in their own interest to buy it for their employees.  Mindful Snacks stocks the food, tracks and reports rates of consumption, and cleans and tidies the kitchen.
James Tjan survived a rare form of cancer at age 21. That got him thinking about the importance of healthy eating. He also had studied hospitality and tourism and had worked in the food industry.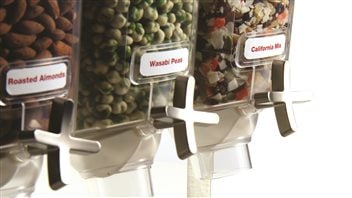 Canadians like afternoon snacks
While working at a restaurant and food retailer, Tjan noticed people coming in from nearby offices for snacks at about two or three o'clock in the afternoon.
"It dawned on me, hey, maybe they no longer need to come out to grab a snack. Why not we just deliver it to them," he thought. "It saves them time…it keeps them a bit more productive as well and it creates a more positive culture."
Listen
Companies like Google Inc., LinkedIn Corp. and Kraft Foods Group have bought into the idea and have purchased the Mindful Snacks service. There are 140 food items ranging from trail mixes, fresh whole and cut fruit and natural sodas.
'Everyone loves free snacks'
"A majority of time in a day is spent in your office and it's so easy to grab unhealthy snacks whether it's a chocolate bar or a bag of chips at your desk or going to that vending machine, says Tjan. "So we're really trying to offer a healthier alternative."
Tjan works with human resources staff and office managers to explain the benefits of Mindful Snacks. He thinks they are an employee perk that can improve morale, and help attract and retain employees. "Everyone loves free snacks."
Planning to expand
The company began making a profit early in 2014. Tjan won't say what his annual revenue is but says his clients spend from a couple of hundred dollars to $3,500 per week for the service.  He hopes to expand the business within Toronto and eventually to other Canadian cities, and perhaps even the U.S. He has begun to sell his services to universities and would like to reach public schools too.
This meshes well with public health campaigns common in Canada to get people to eat healthier foods.