David Kelavey had travelled far and wide from his Manchester, England home before settling in Montreal, Quebec.  It was in this new home that his talent for drawing evolved into an effort at painting.
Listen
In 15 years of dedicated work he's come a long way.  His paintings, often of rather interesting points of view, sell well.
One of David Kelavey's great loves, is cars, particularly the big old shiny ones.  In fact an old Ford Galaxy was one of the subjects of the first painting he sold.
He says he is  "inspired very much by the visual aspect of what I see".  He finds the old cars from the sixties and seventies are particularly interesting. "Lots of shiny surfaces, that's really nice for painting as well because you get a high contrast and it really pops off the canvas when you paint that."
When asked why he thinks there are so few winter paintings, he responds like a true Canadian: "I think that may be due to the fact that people really have enough of winter by the end of it."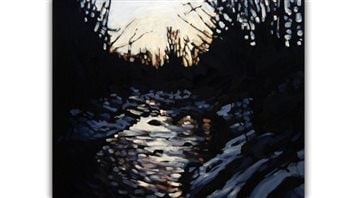 But it's his winter paintings that caught my eye. David Kelavey acknowledges that being originally from somewhere else, is what makes it possible for him to see eventual images others may not.
"The quality of light around here is quite different from where I'm from, so that inspires me very much."
He says he tries to put warmth into his winter paintings, which can be very challenging when he's actually painting outdoors, as he often does on his annual trip to Quebec's Charlevoix region.  An avid cross-country skier, he says his smart phone has been an invaluable tool to his painting.
David Kelavey says "the winter here is full of snow".  Combined with the cold temperature and dry air, "you get this great quality of light especially around sunset time when the sun's low and it's casting these great shadows". Here's hoping this current winter will provide more inspiration.