Hey! It's January. Tennis, anyone?
Don't look now, but the endless summer of the professional tennis tours is upon us again. Players are gathering Down Under to begin their relentless 11-month-long series of tournaments that takes to the four corners of the earth.
The first Grand Slam championship of the year, the Australian Open,  begins Jan. 19. But first, there are the warm-up tournaments.
By any account, the 2014 tours were a grand success for Canadians.
Montreal's Eugenie Bouchard made the finals at Wimbledon the semifinals at two other Grand Slams, the Australian and the French.
Named the Women's Tennis Association "Player of the Year," Bouchard rose as high as No. 5 in the world and finished 2014 ranked seventh.
Her male counterpart, Thornhill, Ontario's Milos Ranoic, made it to the semi-finals at Wimbledon, rose as high as number-six in the Association of Tennis Professionals rankings and finished the year ranked eighth.
For their efforts, Bouchard and Raonic were repeat winners of Canadian Press's female and male athletes of the year.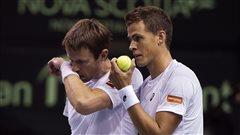 And Canada did just fine in doubles, thank you very much. Vancouver's Vasek Pospisil and his partner, American Jack Sock, won Wimbledon's men's doubles. Pospisil finished the year ranked 14th in doubles and 53 in singles.
And 42-year-old veteran multi-Grand Slam doubles winner Daniel Nestor rebounded from a poor 2013 season to end 2014 ranked fourth in doubles.
While no Canadians have ever been ranked higher than Bouchard and Raonic, they saw their seasons end on down notes. Both were overmatched in the eight-player tournaments that mark the end of the season.
RCI asked Stephanie Myles, who many believe to be Canada's foremost tennis writer, about Bouchard and Raonic's less than auspicious year-end performances and how the results might affect them in 2015.
Listen