It's time to bring on the haggis!   Vast numbers of Canadians are gearing up for a great event this Sunday.
January 25th is the anniversary of Robbie Burns birthday, which is a day to celebrate Scotland's most famous poet. However, more than that he was a leading thinker promoting liberal and social reform and thought, and a national celebrity at a time when celebrity was earned through talent, skill, intelligence and wit, and not just money and silly antics.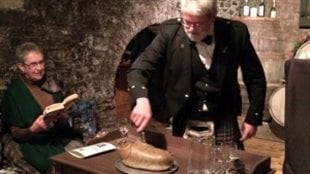 Burns lived from 1759 to 1796 and was a pioneer of the  Romantic movement
It's an important day for many in this country as the 2011 census shows almost 5 million Canadians are of Scottish, or partial Scottish descent, roughly 15% of the population.
The day is celebrated with the "Burns supper" in which the traditional dish, haggis is served steaming hot, preceded into the room by a piper and at which Robbie Burns poem, "Address to a Haggis" is recited, usually with great flair.
Haggis itself is a sort of meat pudding, traditionally made contains the heart, liver and lungs (pluck) of a sheep along with oats and spices. Ground up and mixed together, it's stuffed like a sausage into the fourth section of a sheep stomach (although a cow stomach is sometimes substituted), and boiled.
The steaming haggis presented at the table is then plit down the middle and scooped out along with "neeps and tatties" (turnip and potato), boiled and mashed separately. Of course, it wouldn't be complete without a dram of Scotch whisky, to aid in digestion of course.