Northern lights lit up the sky over many parts of the northern hemisphere in the hours before sunrise on March 17th and were particularly bright in Canada's western province of Saskatchewan. Saskatchewan is aptly called "Land of Living Skies."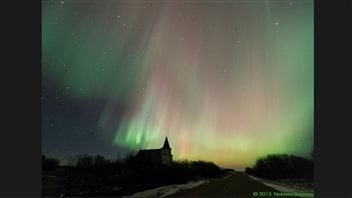 Thank coronal mass ejections (or CMEs) for this brilliant display. Northern lights are the product of these massive bubbles of gas shot through with magnetic field lines that are ejected from the sun and then collide with the earth's magnetic field.
To capture the sight, amateur photographer and storm chaser Notanee Bourassa travelled to Bulyea, about 75 km north of Saskatchewan's capital, Regina.
"I just wanted to prove to people here that, hey, you don't have to book a trip to Alaska or go to Iceland or go to Norway," he said. "It's right here in Saskatchewan. You just have to know how to hunt it correctly."