Canada's national horse has a clear lineage. It dates back to 1660's when King Louis XIV, the Sun king, had a small numer os stallions and mares from his royal stud farm sent to France's colony in the New World (Canada).
They were originally given to religious orders and officials with instructions to breed them and return the foals to the local governing official would then distribute them further with the same instructions.
The horses were quickly bred for work in the new world, their numbers increasing from a couple dozen to 14,000 over the period of 100 years. Because of limited ability of travel, there was no mixed breeding with, for example, horses brought to the New World by the British  and so the "Canadian" blood line remained pure.
The "Little Iron Horse"
In the harsh conditions of the Canadian long cold winters, hard farm work, and sometimes scarce food, the survivors eventually evolved into a distinct breed. The somewhat smaller horse became known as tough, strong, with great endurance and able to cope with difficult conditions, and yet was mild-tempered.
The Canadian soon became known as "the iron horse".
Some would say, it's representative of the character of Canadian people.
It was officially recognized as a national symbol in Canada on April 30, 2002.
Under threat, again
But they're now in danger as a breed, again.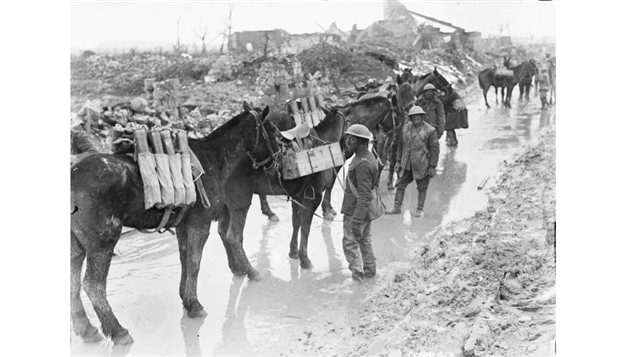 British Columbia horse breeder, Roxanne Salinas in the town of Mission, says with changing tastes and economic downturn, fewer of the horses are being bred.
Quoted in the CBC she says. ""[Canadian horses] make such nice riding horses, people have the mares and they ride them and show them and give them wonderful homes, but they're not reproducing,"
Because of their attributes the Canadian horses were bought by the tens of thousands, in fact as many as 150,000 during the US Civil war, seriously depleting their numbers. .
An initial registry was set up in the late 1800's to try to save the breed  and then  just prior to WW1 the federal government itself set up a  breeding programme.
But with WWI the demand for horse-power skyrocketed. Canada sent about 130,000 horses overseas, according to Steve Harris, chief historian of the directorate of history and heritage at the Department of National Defence. Most of these would have been the Canadian breed
Post-war, with the numbers again seriously depleted the federal breeding programme, now joined by the province of Quebec continued until 1940, when Quebec continued the programme alone.
However by 1976 only 400 horses were officially recognized.
Through the efforts of concerned breeders, that number has risen to over 2,000.
But there is still concern that with fewer Canadians being bred and  with mixed breeding the bloodline could be lost and the Canadian as a breed could possibly disappear.
Salinas would like to see more done to preserve the distinct breed, saying "They contributed so much to the development of our country, They're a part of our heritage."
with files from CBC
Canadian Horse- Journal of Heredity
Canadian Horse Heritage and Presevation society
Canadian Horse-cheval Canadien Breeders Assoc
Iron Horse sales
http://www.ironhorseequine.com/html/canadian_horse_le_cheval_canadien.htm