Canadians need to know about atrocious conditions faced by fisheries workers half a world away because consumer pressure would force seafood companies and governments to stop forced labour, abuse, confinement and human trafficking, says Greenpeace. Fish caught in these conditions may end up on their pets' plates or even their own.
Human traffickers respond to worker shortage
Sea Slaves is the title of an in-depth report by the New York Times which documents abusive conditions in South East Asia's fishing industry. The United Nations estimates that the Thai fishing industry is short 50,000 workers, and human traffickers have jumped in to fill the void.
"Typically what happens is men are brought in from Cambodia and Burma, also known as Myanmar," says Shannon Service who is preparing a documentary on the subject. "They're brought in by human traffickers who promise them great jobs, great pay, (and say) 'you can leave whenever you like,' whatever it takes to get them across the border.
Listen
Workers trapped at sea for months, years
"Once they do cross, they're incredibly vulnerable. They don't have a passport, they don't have money, they don't speak the language, they are often under armed guard. They'll be locked in a warehouse and then sold to a captain for a few hundred dollars each. Once they're out on the sea there is nowhere to go, so they're trapped."
Overfishing has made fish scarce close to shore, so boats are going further, staying out longer and transferring catches on the high seas.  Men are often held on board boats which don't go ashore for months or years.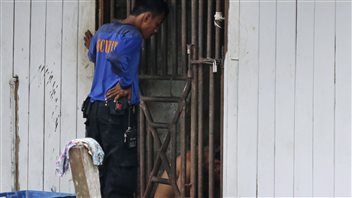 Some drugged to work long hours
"(The incidence is) a little bit tough to gauge. The average seems to be two to three years before a lot of the men escape. And that's two or three years without ever seeing land," says Service. "I did talk to one guy in Borneo who was sold on board when he was 10 years old and he didn't see land again for 10 years."
Canadians can act, says journalist
Workers may be beaten, fed fish unfit for animal feed, and there are reports some are forced to take amphetamines so they can work longer hours. Service says Canadians can do something about this.
"We really are the people who are either consuming it (the fish) ourselves or our pets are consuming it. So we're the ones who can actually put the pressure, which ultimately is the most important pressure, on the Thai industry to clean up its act," she says.
Some men disappear, says journalist
The Thai government needs to take control of its ports and track the ships that come and go, says Service. "Our documentary is actually called The Ghost Fleet because at the moment the boats are not tracked. A boat might come into port, load up with slave crew, leave with ten men, come back with 8 and nobody knows that two men disappeared. It might come back with 8 different men…So there's a lot of tracking that needs to happen.
Thai efforts to stop abuse called 'limp'
"The other side of it is enforcement. Once a captain or an owner is busted for this, they need to be prosecuted fully. Thailand is saying that they're going to do that, but so far, the efforts that I'm aware of are limp."