With several cases of police shooting and killing people allegedly involved in criminal situations or having threatening psychiatric problems, the electronic stun gun was seen as a good non-lethal alternative. Another non-lethal alternative, especially in crowd control situations was the bean-bag gun, along with tear gas and pepper spray.
These and other non-lethal alternatives however have limitations. Tear gas is indiscriminate, and pepper spray cans can only be used at very close range. The bean bag gun is not accurate and can cause severe damage and even kill if it hits someone in the head, while range of the stun gun is limited and effects on individuals vary from little effect, to allegedly resulting in death.
Police in Canada are now stocking up on a new alternative under the generic name of "blunt impact projectiles" or BIP.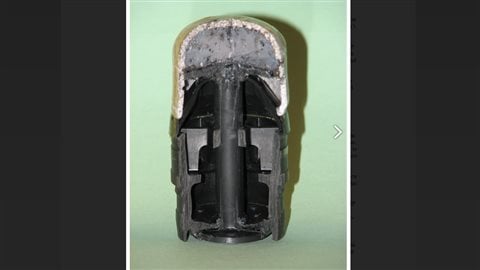 The new large calibre projectiles (40mm)- basically large silicon bullets- are fired from tear-gas guns. Upon impact the bullets crush, thus not penetrating but causing a great deal of pain, similar perhaps to receiving a really strong punch with a closed fist.
Another way of putting it is to imagine you were struck by a large unripe plum travelling over 300 kph..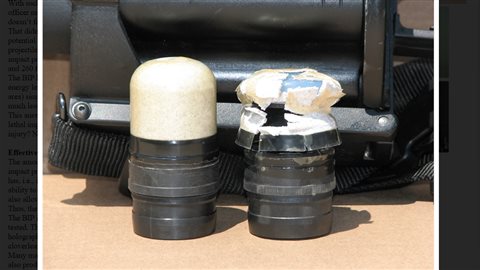 Gregory Sullivan is president and CEO of Security Devices Intarnational, a Canadian company which markets a number of BIP products.
Quoted in the National Post newspaper he says, "You're causing more pain, but you're not getting that depth and penetration that causes injury."
He says the variety of their BIP products provide police with non-lethal alternatives in dealing with unruly crowds or individuals, or people in threatening  emotional or psychiatric situations. The advantage of the BIP is range from about 3 to 70 metres, and especially accuracy, whereby officers training with the projectile say they can hit where they aim,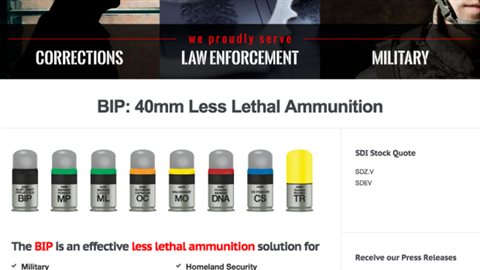 Police in several major Canadian cities have been buying the BIP products, including Montreal, Toronto, Regina, and Saskatoon.  Corrections Canada has also been stocking up for use in prisons and the Royal Canadian Mounted Police has also purchased quantities for emergency response teams.
The several shooting deaths in recent years by police in the US and in Canada has meant a greater interest in such alternatives.
SDI says several US police forces have placed orders for their products with more expressing interest.
With files from National Post, Associated Press, Tactical Response