"A miracle" is how Police Sgt. Ron Stewart describes the survival of cyclist who was dragged under a semi-trailer for about a half a kilometre on Wednesday. It is becoming increasingly popular among Canadians to ride bicycles to work although the trend is not widespread yet. But there are more reports of cycling accidents that make headline news.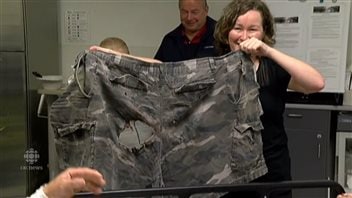 Lada Cumpelik was on his way to work just outside of the western city of Victoria when the accident happened. The 37-year old was cycling down a steep hill when a flatbed truck suddenly turned right in front of him. He slammed on the brakes, but lost control, hit the road and slid between the truck's wheels.
'Is this my last journey?'
"I grabbed on to his brake line and held on tight and started screaming," said Cumpelik. He slid on the road under the moving truck, hanging on for dear life.
"A lot of stuff was going through my brain… 'Is this my last journey?' … And I was just screaming at the top of my lungs… I had a death grip on." Passing motorists drove up beside the truck driver to get him to stop.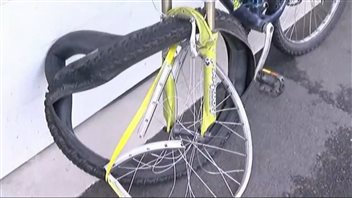 'Certainly an interesting journey'
Cumpelik survived with a broken shoulder, fractured ribs and some nasty road rash. "It was a thrill ride, I'm glad I didn't have to pay for it. It was certainly an interesting journey," said Cumpelik.
"But I don't wish it on anybody."
Several provinces have or are considering passing new road safety regulations to try to protect cyclists.
These include requiring motorists to keep a particular distance from cyclists and fines for opening car doors without checking for cyclists. Several accidents and some deaths have been caused by "dooring."