It took years of trying, but Milan Lukes has finally beat out experienced farmers and won a western Canadian competition for growing the largest pumpkins. This is a time of year in Canada, when pumpkins have ripened and are carved as popular decorations for Halloween. Cultivation of giant pumpkins is said to have started in 1500 A.D. and there are competitions all over Canada and the United States.
Lukes submitted a 612.7 kilogram pumpkin at the Roland Pumpkin Fair on October 3rd and won the first prize of $1,500. His second entry at 583.2 took the second prize of $1,000.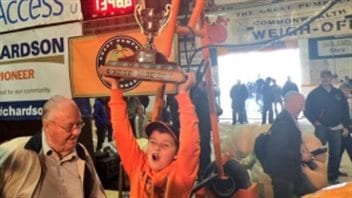 'It's like taking care of a child'
"Growing these things — it's like taking care of a child," he said. "They need a lot of care and attention, and you can't just leave them."
Lukes started growing pumpkins in his backyard when he was six years old. He has attended growing seminars, worked hard and sometimes sacrificed family trips to tend his garden.
'You could fit eight people…inside there'
He has not yet decided what he will do with the prize money, but says he will carve the pumpkins. "We know for sure we will put them on our front lawn. I myself always carve a hole near the stem area, and I crawl inside and it makes a great photo having me inside because you could fit like eight people my size inside there," he said.
After displaying them, many people like to make pie out of their pumpkins. These however, are so big they are heavy with water and rather tasteless. So they are more likely to become food for deer.