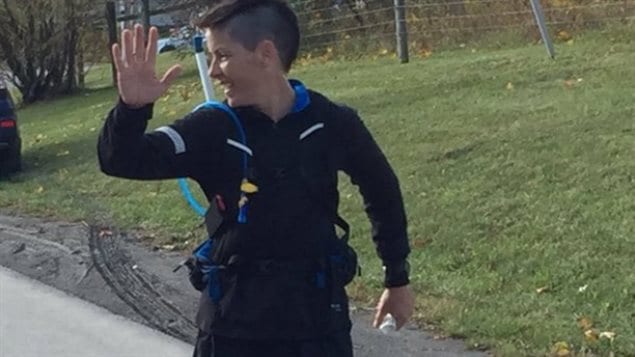 A Canadian marathon runner is backing her way straight into the Guinness World Book of Records for doing the grueling 42-kilometre race while… running backwards.
Kat Clewley, who lives in Burlington, Ont., posted a time of 4:48:42 on Sunday's Road to Hope Hamilton Marathon. That qualifies her to hold the first Guinness World Record for a woman accomplishing the feat, she says.
"This was the hardest thing I've ever done," the former goalkeeper for Canada's women's soccer team at the Pan Am Games told Radio Canada International. "First thing waking up and rolling out of the bed I was definitely walking a bit funny this morning."
Listen
She said she was thankful for the support of her family and colleagues and friends from the YMCA on Rymal Road in Hamilton, where she works as a program manager, organizing running training groups.
Lise Diebel, a spokesperson for the YMCA in the area, said Clewley used the attention her goal brought to raise money for the YMCA's after-school and summer program, Beyond the Bell.
"Kat's accomplishment is truly amazing and we are so glad to have her as part of our YMCA team," Diebel said.
Retro-running
Clewley credits her dog, a Giant Schnauzer named Vanilla, for getting her into the sport known as "retro-running."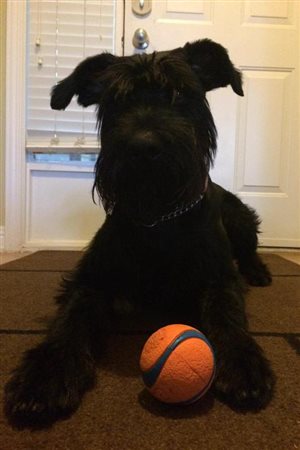 "She's my running partner, she's almost five and she's starting to slow down as she's getting older," Clewley said.
"She carries a running ball, she drops it sometimes and we lose it. So one day she slowed down even more so, so I turned around and instead of walking I decided to continue running, so I turned around and continued it backwards. And that was really the first time and thought: 'Wow, this is fun!' I really enjoyed it I sustained it that day for about ten minutes."
When they came back from the run, Clewley said she did a Google search on running backwards and realized no one had set a female Guinness record for running backwards.
She had already signed up for the Road to Hope Marathon so all she had to do was to change her goal from running forwards to running backwards.
It took Clewley five months of training to get used to running backwards even though she's an accomplished long-distance runner with 100-mile ultra-marathons under her belt.
"It's a sport that you only train two or three times a week because it's using a smaller muscle group and you're on the soles of your feet, your heels don't touch the ground so your forefoot and your toes take a beating" she said. "The added element to this is the fact that your equilibrium is off because you're running in a way that the body is not used to, your neck is kinked to one side and you're just not supposed be going that way at that speed for that long."
Clewley says she has been invited to represent Canada at the retro-running championship in Essen, Germany in July 2016.
The fastest man to run a marathon backwards is Xu Zhenjun, who ran the distance at 3:43:39 in 2004 in Beijing.