It is perhaps the biggest international trade deal ever. For years, government negotiators from the 12 nations involved have held meetings in secret as they worked out the various aspects of the complicated deal
With some information emerging, many in Canada expressed concern over the possible effect on their businesses, not the least of which was the dairy and poultry sector, although the beef cattle and hog producers have indicated support for the deal.
After five years, the  deal involving Canada, Australia, Brunei, Chile, Japan, Malaysia, Mexico, New Zealand, Peru, Singapore, the United States and Vietnam. was finally agreed to just prior to Canada's federal election in October.
However, the Stephen Harper led Conservative government  which initiated Canada's participation in the deal was voted out of power last month to be replaced by a majority Liberal government, which has tentatively said it was in favour of the deal.
Now the details have emerged in a 6,000-page, 30-chapter volume and one of Canada's leading hi-tech businessmen has come out with a stern warning.
Jim Balsillie, who helped build Research in Motion as it's co-chief executive officer says it could cost Canada billions of dollars in intellectual property rights.
He says it's a treaty that "structures everything forever, and we can't get out of it", adding, "I actually think this is the worst thing that the Harper government has done for Canada."
He says the TPP imposes U.S. intellectual property standards on Canada and the others, and would cost Canadian companies which would have to pay for someone else's ideas rather than develop their own.  He says it also could prevent Canadian companies from growing as it appears to limit how much money they can make from their own products and services.
"I think our trade negotiators have profoundly failed Canadians and our future innovators. I really lament it." (Jim Balsillie)
Others note the TPP also makes it easier for foreign partners in the deal to take over Canadian companies by raising the limit of investment to $1.5 billion, up from the current threshold of $600 million — before becoming subject to scrutiny from Investment Canada.
Privacy Concerns
The deal also contains clauses and side deals that worry privacy advocates such as making e-commerce easier by protecting "cross-border transfer of information … including personal information," for business purposes. The wording  may override laws like those in some Canadian provinces that keep government information such as health data and other personal details on servers within Canada to keep people's information safe.
Michael Geist, a University of Ottawa law professor who has raised concerns about is quoted in an article by Erin Obourn of CBC News saying,  "These are rules that create restrictions on a country's ability to establish privacy safeguards."
Balsillie also notes problems with the Investor-State Dispute Settlement (ISDS) clauses saying it has "iron-clad" dispute mechanisms, expressing his concern and adding " I don't know how we can get out of this".
National Farmers Union- "threat to food sovereignty"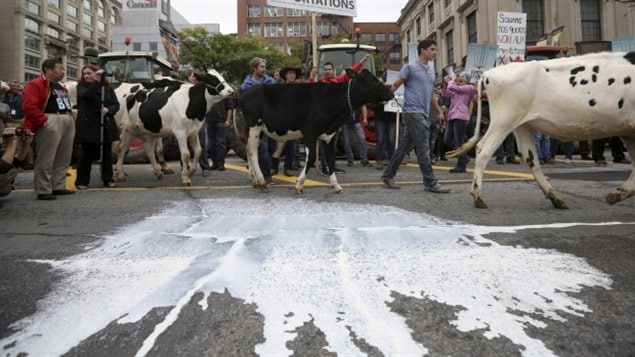 In an article on its website the National Farmers Union says deals like TPP and CETA threaten food sovereignty. "These trade agreements undermine our grain, beef and pork producers by facilitating concentration in the grains industry and livestock industries, making farmers livelihoods more precarious here in Canada as well as in other countries," said Terry Boehm, Chair of the NFU Seed and Trade Committee. "Proponents of these agreements claim farmers will prosper based on more trade, but the reality is that farm debt is increasing rapidly. With fewer farmers, and less secure farmers – what kind of food system do you end up with?"
"If ratified, the ISDS clauses in the TPP or CETA would lock in recent laws – such as the Agriculture Growth Act — that shift power away from farmers and consumers towards global agribusiness corporations," said Ann Slater, NFU Vice President of Policy. "After ratifying a trade deal with an ISDS, governments that repeal or amend these harmful laws would risk being sued for billions of dollars by corporations in unaccountable trade tribunals – not in our own court system. By agreeing to ISDS mechanisms, Canada's trade negotiators consented to letting a few appointed trade lawyers over-ride the democratic will of the Canadian people."
Canada's largest Canada's largest private-sector union, Unifor, called on the new Liberal government to revise the provisions it says will damage key Canadian industries.
The new Liberal government has said it is committed to a full Parliamentary debate and a vote in the House of Commons, but no date has been set.
The TPP comes into effect six months after all 12 countries ratify the deal, or if it ratified by half the countries representing 85 percent of the zone's economy.