Another province is launching a pilot program to provide antidote kits in hopes of reducing the number of deaths caused by the illegal use of the opioid fentanyl. The western province of Saskatchewan will provide a take-home kit containing naloxone, which is an antidote to fentanyl and other opioids such as morphine, heroin, methadone or oxycodone. The kits do not replace the need for immediate medical treatment in cases of overdose, but they may buy some time.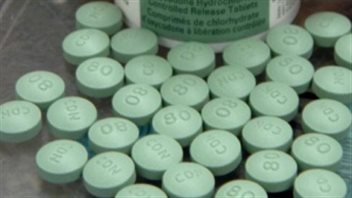 'A public-health crisis' in Alberta
Saskatchewan's coroner says there were 25 fentanyl-related deaths in that province between January 2013 and August 2015. Police in the province of Alberta say it is experiencing a public-health crisis with 145 people dying from fentanyl in the first half of 2015. It is funding a one-year project to distribute 3,250 kits.
British Columbia introduced the kits in August 2012. It has 70 registered sites dedicated to dispensing the kits.
'Worst drug I've seen'
Fentanyl is 50 to 100 times more potent than other opioids. It is a prescribed painkiller that can cause people to stop breathing. The kits can reverse that, but they must be administered by someone nearby since people in the throes of overdose are unable to.
The head of the police drug unit in Calgary, Alberta, Staff Sergeant Martin Schiavetta told the Globe and Mail "this is the worst drug I've seen in my career."