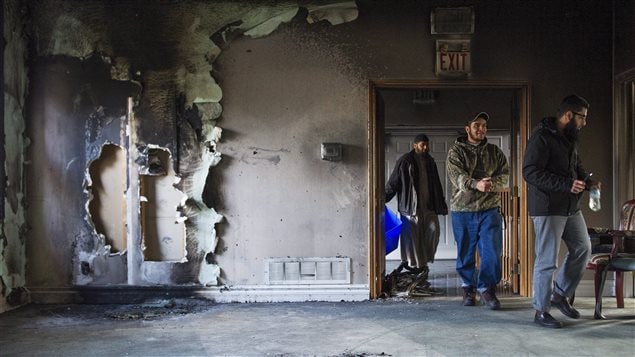 Canada's Muslim community already reeling from the Friday attacks in Paris and the deadly bombings in Lebanon and Iraq, is now worried about an anti-Muslim backlash, says a Muslim civil rights advocacy group.
That fear was further reinforced over the weekend when a mosque in Peterborough, Ontario, was intentionally set on fire on Saturday. No one was injured in the blaze, but the fire caused about $80,000 in damage.
Police in Peterborough are investigating the arson, though they have drawn no link between the fire and Friday's attacks in the French capital that killed at least 129 people.
Amira Elghawaby, a spokesperson for the National Council of Canadian Muslims (NCCM), said any time horrific events like the attacks in Paris play out in the media and where the perpetrators call themselves Muslims and seem to be acting out using Islam as their guise, there is concern in the Muslim community about being targeted.
Listen
"There is always a concern that people who don't know a Muslim or Muslims, who don't understand what Islam actually stands for may unfortunately act out their anger on their fellow neighbours or community members who are visibly Muslim," Elghawaby said.
"There is always a spike in incidents impacting Canadian Muslim communities, whether it's vandalism, whether it's verbal and physical harassment."
Community comes toghether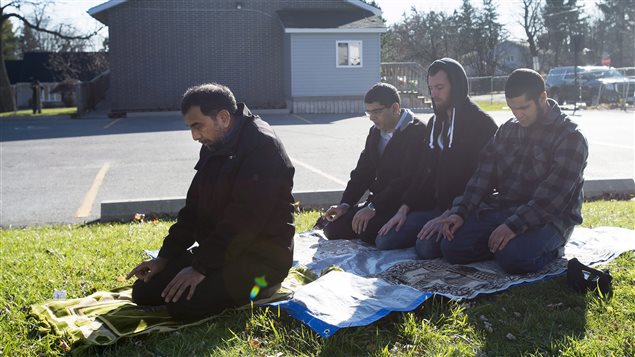 Peterborough-Kawartha MP Maryam Monsef, a Muslim who came to Canada as a refugee from Afghanistan 20 years ago, said she was "shaken up" by news of the fire at the Kawartha Muslim Religious Association's mosque.
"This is not the Peterborough way, certainly not the Canadian way," said said Monday in an interview on CBC Radio's Metro Morning. "Like everyone here … I was disappointed, shaken up and somewhat confused to be honest."
Monsef said the community has come together to help the local congregation. Area churches and synagogues have offered the group space to worship and more than $74,000 has already been raised in a crowd-funding campaign to cover repair costs.
"A few individuals may have decided to take part in an ugly act like this but the response from the community has been overwhelmingly positive," said Monsef. "They are demonstrating that whoever did this, your neighbours don't agree with you."
Monsef, who is also the minister of democratic institutions, says the arson and Friday's attacks in Paris have not deterred the community's interest in accepting some of the 25,000 Syrian refugees who the federal government has vowed will be settled in Canada in the next few weeks.
She said 25 local groups have come forward expressing an interest in sponsoring refuges from Syria.
"Security continues to be top of mind for the people sitting around that table, making this decision," she said. "Canadians can rest assured that that level of care is going to continue to be provided even more so now."