The federal government has formally withdrawn a controversial court challenge involving the Muslim face covering veil, Canada's newly minted attorney general and justice minister announced Monday.
The Conservatives had asked the Supreme Court of Canada to hear a request for an appeal of a court decision allowing women to wear the niqab at Canadian citizenship ceremonies.
"As a government, we uphold and respect the decisions of the two courts," said Jody Wilson-Raybould during a news conference in Ottawa on Monday.
"In all of our policy as a government we will ensure that we respect the values that make us Canadians, those of diversity, inclusion and respect for those fundamental values."
The case started with a lawsuit from Zunera Ishaq. The 29-year-old devout Muslim woman, came to Canada from Pakistan in 2008.
Ishaq agreed to remove her niqab for an official before writing and passing her citizenship test two years ago. However, she objected to unveiling in public at the citizenship oath-taking ceremony.
Election issue
Ishaq successfully challenged the Conservative government's ban on wearing the niqab while taking the citizenship oath. Her legal battle with the Harper government, which unfolded in the middle of the election campaign, became a major issue in last month's election.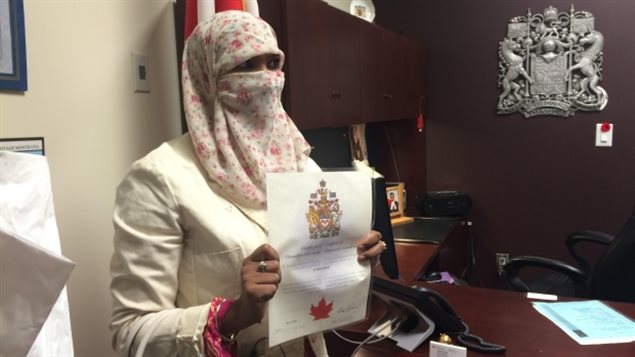 The Conservatives appealed the ruling, but Ishaq took the oath last month while wearing her niqab.
Afterward, in an interview with CBC News, Ishaq said it meant a lot for her to finally get Canadian citizenship.
"It actually confirmed my belief in the justice system of … Canada," she said.
During the ceremony, Ishaq said, her affection for her new country caused her to well up.
"I was feeling pretty much that love which I already have in my, within myself for Canada. And you know, the same feelings as I was feeling in the oath, that definitely this is the country to whom I have to be loyal."