Star Wars is all the talk in many quarters these days, and it has put Ray Johnson in Moose Jaw, Saskatchewan, in the spotlight.
Credited with one of the largest collections of Star Wars stuff, Johnson is now having to share what he calls his "Star Wars man cave".
How big is it? Well the married father of two had to build an addition to accomodate the collection when it outgrew his house. He estimates it is worth nearly $500,000 (Cdn).
It's made up of 25,000 unique Star Wars items, (nearly 40,000 if you include the doubles). Now he's adding new pieces from the latest edition, Star Wars: The Force Awakens, which opens this Friday in Canada.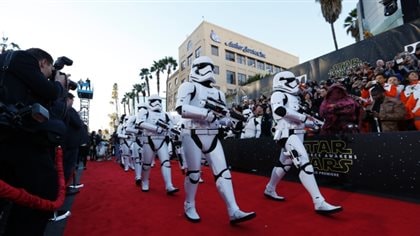 A water treatment plant operator, Johnson limited sharing his collection to friends and family until now. But with the growing anticipation and the countdown to the opening, Johnson welcomed the cameras and the questions.
Like so many, his affection for the series began when he was a little boy. He told a CBC reporter the his family had moved cities at the time and he was devastated.
"You're a little displaced, you're not feeling yourself," Johnson now 42, said. "So my mom bought me a Stormtrooper figure. That started everything." But the collecting began before he saw the movie.
When he had his tonsils removed in 1980, his father treated him to the movies to see both Star Wars and The Empire Strikes Back.
And so it was, his connection with Star Wars began. "It's the possibility, it's imagination, it's all the places they went that were unique and different," Johnson said.
Following a press screening of "The Force Awakens", CBC's film reviewer Eli Glasner says, this one is "good, maybe even great!"