The silly situation concerning a tribute to a world-renowned Montreal novelist and essayist continues.
For Montreal, and the mostly French-speaking province of Quebec, it's been an embarrassing conundrum on how to honour Mordecai Richler which has long pitted Franco-Quebec separatists against those who realize the international stature of the writer.
Richler died in July 2001, and after much waffling, the city of Montreal eventually decided to dedicate a dilapidated bandstand in Mount Royal Park in his honour.
A proud Jewish Montrealer, Quebecker, and Canadian, Richler, with his wit and logic, often skillfully skewered the French Quebec separatist movement in his writings resulting in a media campaign organized against him by separatist sympathizers.
Normally a writer of this stature would have a major street named after him or some other worthy symbol. In his own Montreal borough however, the councillors refused such an honour, and other options were also refused by various community politicians. This led to a former Montreal mayor offering to rename the dilapidated bandstand, which some saw as a political move to try to make the embarrassing issue go away. Many of Richler's admirers however saw it as another insult to the memory of a world-class author.  Eventually the new mayor, Denis Coderre had a library in Richler's former borough re-named in his honour.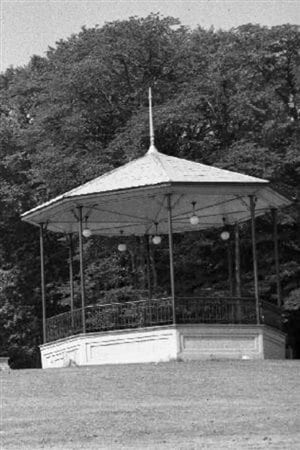 .
.
.
.
.
.
.
.
.
.
.
.
.
.
The history of the bandstand dates back to 1924 when an Anglophone Montreal lawyer Charles S. Campbell, donated the vast sum of $1,000,000* to promote culture in the city and make it accessible to the public (*roughly equivalent to about $170 million today)
As a result of the donation, in 1927 the city accorded the sum of $4,800 to build several bandstands around the city, including the one in Mount Royal Park in 1928.
After being "abandoned" for several years, the city decided to restore the Mount Royal Park structure and name it for Richler, even though it had no connection with the author at all.
Original estimates for the restoration work were over $300,000, but have since ballooned to some $535,000.  Begun in the spring of 2015, the restoration was supposed to have been completed by September 2015.
Earlier in 2015, Montreal mayor Denis Coderre was quoted as saying that the work would be completed on time even if he "had to paint it myself".
Additional information, sources