What do you do if you've rowed alone in a tiny boat across the Atlantic Ocean and found it to be too easy?
"I thought it was going to be the voyage of the lifetime and test me to the limit," said John Beeden, referring to his 53-day crossing of the Atlantic from the Canaries to the Barbados in 2011-2012. "I mean each individual day was very hard work but collectively it didn't really push me right to the edge."
(click to listen to the interview with John Beeden)
Listen
So, the 53-year-old British-born Brampton, Ontario, man decided to become the first person to row across the Pacific Ocean from North America to Australia (Peter Bird was the solo rower who got the closest to completing the route non-stop in 1983. After 294 days he was rescued in the Coral Sea).
The voyage from San Francisco to Cairns lasted 209 days – instead of 180 days Beeden had hoped it would – and covered a distance of about 7,500 nautical miles (just shy of 14,000 kilometres).
"It was difficult to the extreme," Beeden said, speaking on the phone from his office. "Thinking about that now, it's difficult even for me to comprehend. You obviously break it down to individual days, and just make what progress you can each day, but I can confirm it's a long way."
'Boat bubble'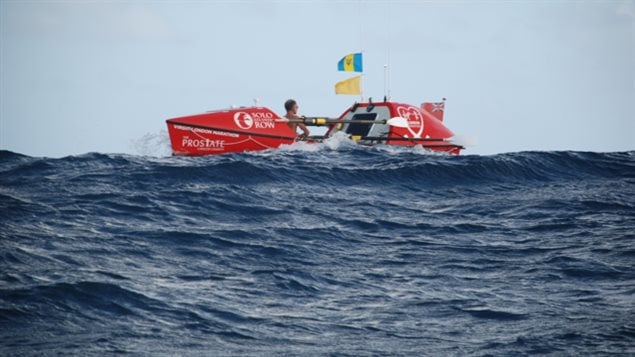 The 6-metre boat, baptised Socks II, became his world for those 209 days, his "boat bubble," Beeden said.
"Your horizon is what you can see and so that small world is what you pass across the surface of the ocean," Beeden said.
And even though most of the time he was thousands of kilometres from the nearest land – with the closest humans floating in space at the International Space Station, Beeden said he never felt isolated.
"Every day, I'd get messages from home, friends that come via the website," Beeden said. "And you're very busy all the time, so the time passes reasonably quickly and you don't feel a sense of loneliness, you're just eager to make the best progress you can each day and get home as quickly as you can."
To complete his journey he had to row 15 hours a day, a challenge even for a trained marathon runner like Beeden.
"15 hours a day is a long time at the oars," Beeden said, "and then you try and control or mitigate any losses: quite often you're making the best of the series of worst possible decisions."
Preparing for ocean crossing
Beeden's fascination with ocean rowing started when he taught himself to row on a small scull on a lake at his family cottage. But to complete his first ocean crossing he had to back to school, learn to navigate, safety at sea procedures, and how to use all the equipment.
"It really is paying attention to the rules of the ocean," Beeden said. "It's about currents and the winds, and understanding what to do with the boat, because as a novice rower you expect to go to sea and the swell always goes in one direction. But when you're at sea in the middle of the ocean, you find that the swell comes from three, four, five different directions."
(to give you a taste of what it feels like to be out in the middle of the ocean, here's short video John Beeden posted from his Atlantic crossing)
It's also about learning and accepting that out in the ocean Mother Nature controls things, not humans.
"The ocean is a pretty powerful thing and you should never try and fight what the ocean is doing to the boat," Beeden said. "You can try to mitigate it but you shouldn't fight it, otherwise you'll end up in big trouble."
Food and water
To sustain him during his ocean voyage Beeden's boat was filled with food.
"Fifty per cent of what you eat is dehydrated food, 'space food' we would have called it when were kids in the 1960s and 1970s," Beeden said. "It is relatively palatable, but it is like grownup baby food – curries and spaghetti bolognaise – so it's decent menu but it is all chopped very finely and rehydrated so it's a bit mushy."
Beeden also had biscuits and jellybeans – things that are high in sugar – to give him a calorie boost, after all, it's estimated he burnt 810,000 calories during his time at sea.
"There is a lot of hidden space on the boat so you can easily get six months of food on the boat," Beeden said. "And the water is simpler in the sense, because you make your own water as you go across with a desalinator."
One step at a time
Not to be overwhelmed by the enormity of the task ahead of him, Beeden had to break up his journey into manageable blocks of time.
"You have to break it down into days, but even waking up in the morning thinking I have to row for 15 hours," Beeden said, "you get into a four-hour session, break it down into miles and break the miles down into quarter-miles… You really focus on the 'now' and don't worry about the big picture."
But even with all that planning, Beeden said he never expected his trip to take so long.
"We hit so much bad weather, currents, negative currents and south-west winds that pushed me backwards 350 miles," Beeden said.
He started running out of food and had to divert close to Vanuatu, where a boat came out to resupply him with food.
"But once I passed Vanuatu, it was the last land, which was 1,300 miles from Australia and there was no way to stop in between," Beeden said. "So you have to keep going until you're finished, you can't go backwards."
Lost family time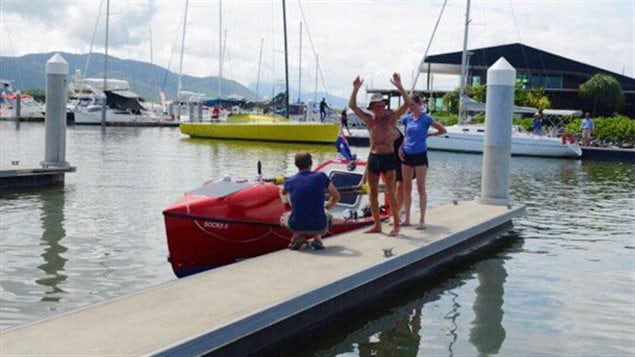 Despite all the physical challenges, the most difficult thing was to be away from his family, Beeden said. It was a big year for the Beeden family: the couple's his eldest daughter went off to university and the youngest daughter graduated from school and applied for university.
"I'm away from all this and felt like a terrible father," Beeden said. "But they are really supportive. My wife took over some of my work obligations, which unbelievably good of her, and we're still married so I guess it didn't do too much damage to the relationship."
One of the things he wanted to achieve is to show his daughters that you can take on any project regardless of its complexity if you break it up into little pieces, he said.
A terrestrial challenge next?
Beeden says having tested himself to the limit during his Pacific crossing he's not planning any more challenges in the foreseeable future.
"I don't need to prove anything else to myself, I have no desire and never did to prove anything to anybody else," Beeden said. "If I do anything again, I don't think I'd do anything at sea, so maybe some running-based challenge but it would be in two or three years. I'm looking forward to a summer at the cottage next year."
Related stories: