We've all seen too many images of whales tangled in fishing gear.  This is heavy stuff, and the ropes can cut into the whale skin causing serious and potentiall deadly infections and injuries. However, dragging the weight through the water also can kill, simply by causing an excessive expenditure of energy and hampering feeding.
A recent study led by the Woods Hole Oceanographic Institute looked at just how serious that drag can be.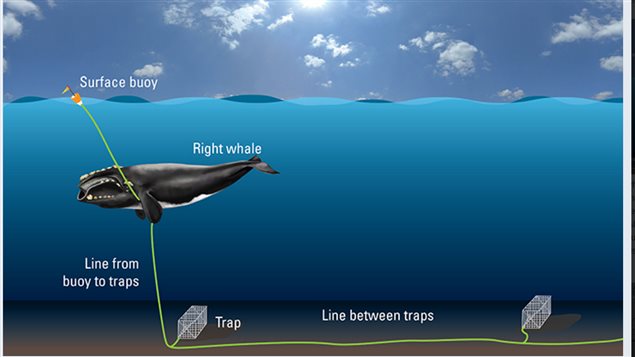 The study looked at some 16 sets of gear taken from actual entanglements and studied the drag effect. These included some gear with floats or buoys, some just the line only, and one with a typical weighted lobster trap.
Julie van der Hoop, one of the paper's authors,is  a Dalhousie University graduate in Halifax Nova Scotia. She is involved in the study as a PhD candidate at the Massachusetts Institute of Technology and Woods Hole Oceanographic Institution.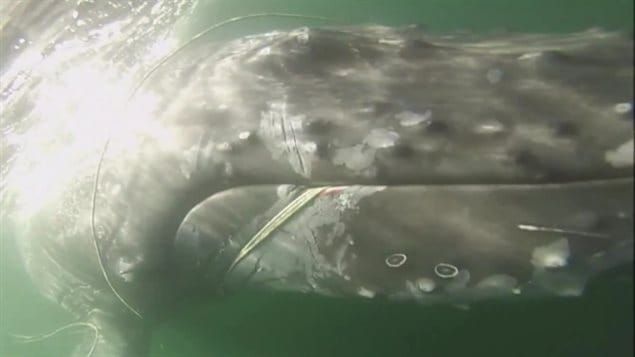 She says that right whales once they get tangled in lines, are large enough to pull such things as weighted lobster traps off the bottom and swim with it for long periods. She says the study was to try to quantify just how much energy was required by the animal to tow it through the water, and what that might mean for survival.
It specifically looked at the North Atlantic right whale which is an endangered species.  It is believed there are only about 500 North Atlantic right whales left.
The whale's summer habitat includes the Bay of Fundy between Nova Scotia and new Brunswick, while the whales migrate back and forth up the eastern seaboard from the Caribbean and the winter grounds. This means they are often travelling through areas where there is a great deal of commercial fishing, including lobster and crab traps.
Entanglements alter a whale's diving and feeding habits, and their ability to grow and mate, in addition to requiring more energy to swim.
The study showed for example that towing a single weighted lobster trap created three times the normal drag on a whale's body, and that on average of the 16 sets of gear, an entangled whale requires twice as much energy for the whale to swim at the same speed.
A study in 2013, also revealed previously unknown behavior in humpback whales. This found they spent a lot of time feeding on the bottom thereby making them more at risk of becoming entangled in fishing gear than had been thought.
The study will help to assess the situation when an entangled whale is encountered and better determine what and how to disentangled the animal to best effect if complete removal of gear is not possible.
Additional info –sources
CBC NEWS VIDEO